Kenny Aronoff 40th Anniversary Limited Edition Signature Snare Drum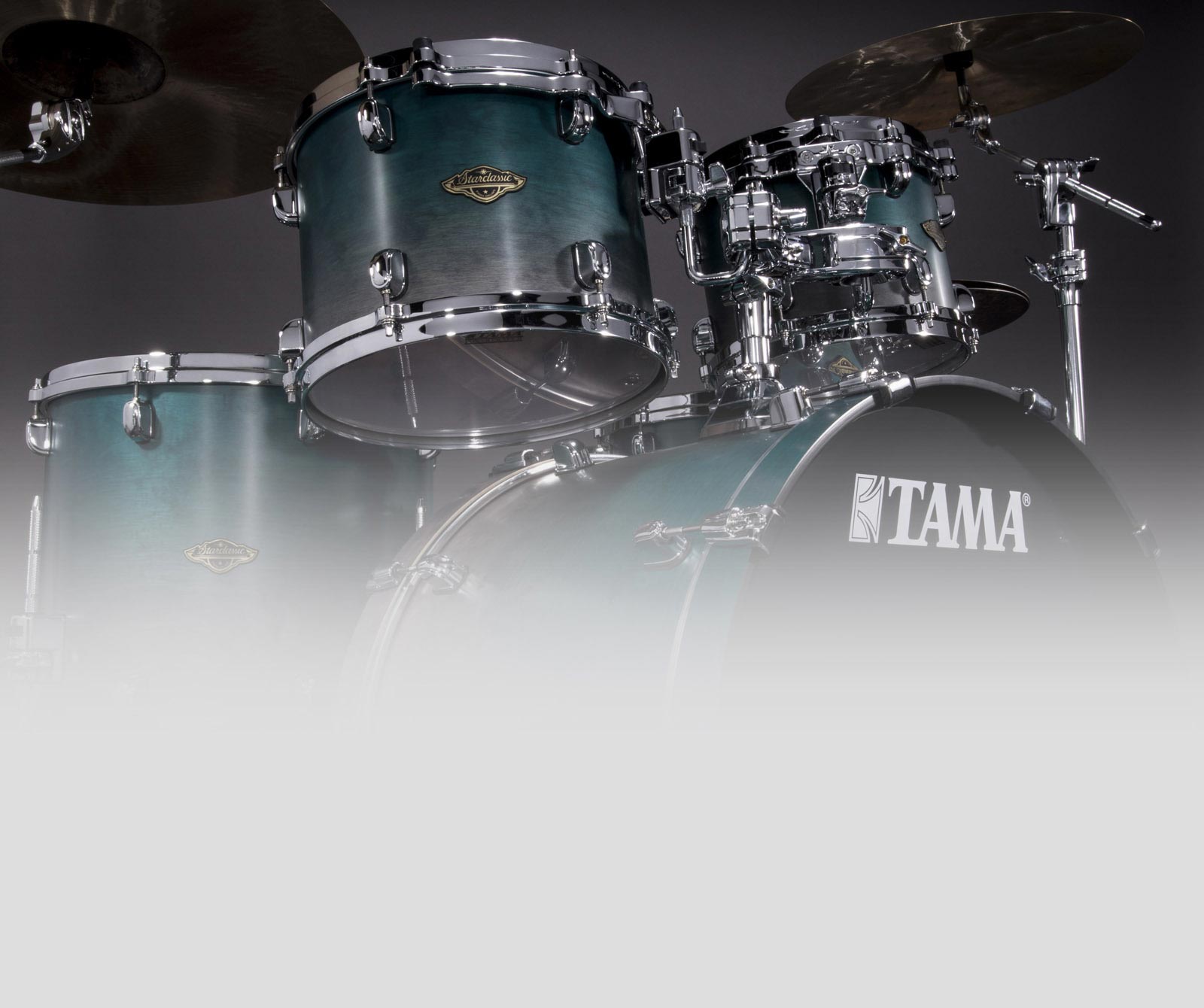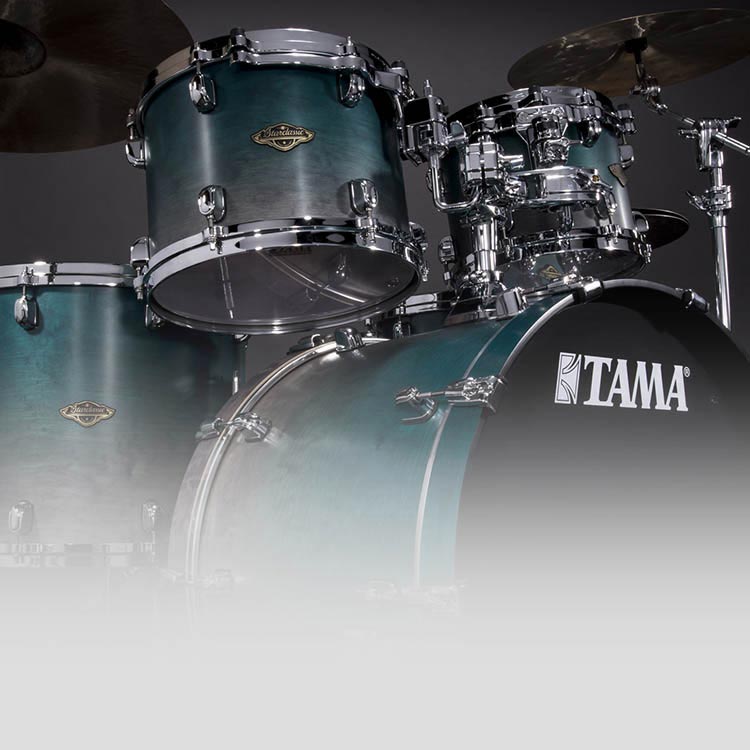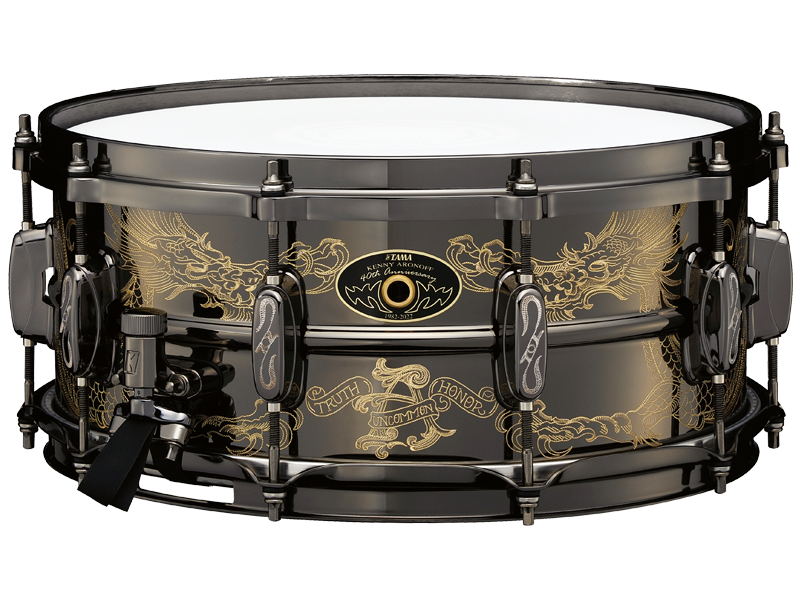 2022 marks 40 years since Kenny Aronoff's relationship began with TAMA in 1982. In celebration, TAMA is proud to release the Kenny Aronoff 40th Anniversary Limited Edition Snare Drum.

Over the last 40 years, Kenny has recorded drums on albums with over 300 million units sold; more than 1,300 of which are RIAA certified Gold, Platinum, or Diamond.
TAMA has been with Kenny from the early days with John Cougar Mellencamp, all through the years as he played with top musicians like Rolling Stones, Bruce Springsteen, Paul McCartney, Tom Petty, Sting, Billy Gibbons, Lady Gaga, Bruno Mars, Bob Dylan, Bon Jovi, Elton John, B.B. King, Johnny Cash, Willie Nelson, John Fogerty, Dave Grohl, Slash, Celine Dion, and The Smashing Pumpkins, and the list goes on.

To commemorate this long-standing and treasured relationship, TAMA has partnered with legendary master engraver, John Aldridge, to produce an extremely limited number of beautifully hand engraved snare drums. Limited to only 30pcs worldwide, these extremely special snare drums feature a one-of-a-kind design hand drawn by famed Los Angeles based tattoo artist, Corey Miller.

Furthering their limited nature, John Aldridge engraves each drum with extremely subtle variations in the design, resulting in no two drums being alike. Completing this uniquely limited snare drum, Kenny's handwritten signature is engraved onto each shell. Finally, finished with a special 40th Anniversary badge and serialized hand-signed Signature Palette sticker, this truly one-of-a-kind snare drum proves itself to be an extraordinary tribute to this historic occasion.

[Specifications]
-Model No.: KA146A40
-Shell: 1.0 mm Brass (Black Nickel Plated & Hand Engraved)
-Size: 14"x6"
-Lug: MSL35 (Hand Engraved)
-Hoop: (Top) Die-Cast Hoop /(Bottom) 2.3mm Brass Mighty Hoop (10 hole)
-Strainer/Butt: MLS50ABN/ MLS50BBN
-Snare Wire: 30-Strand Carbon Steel Snare Wire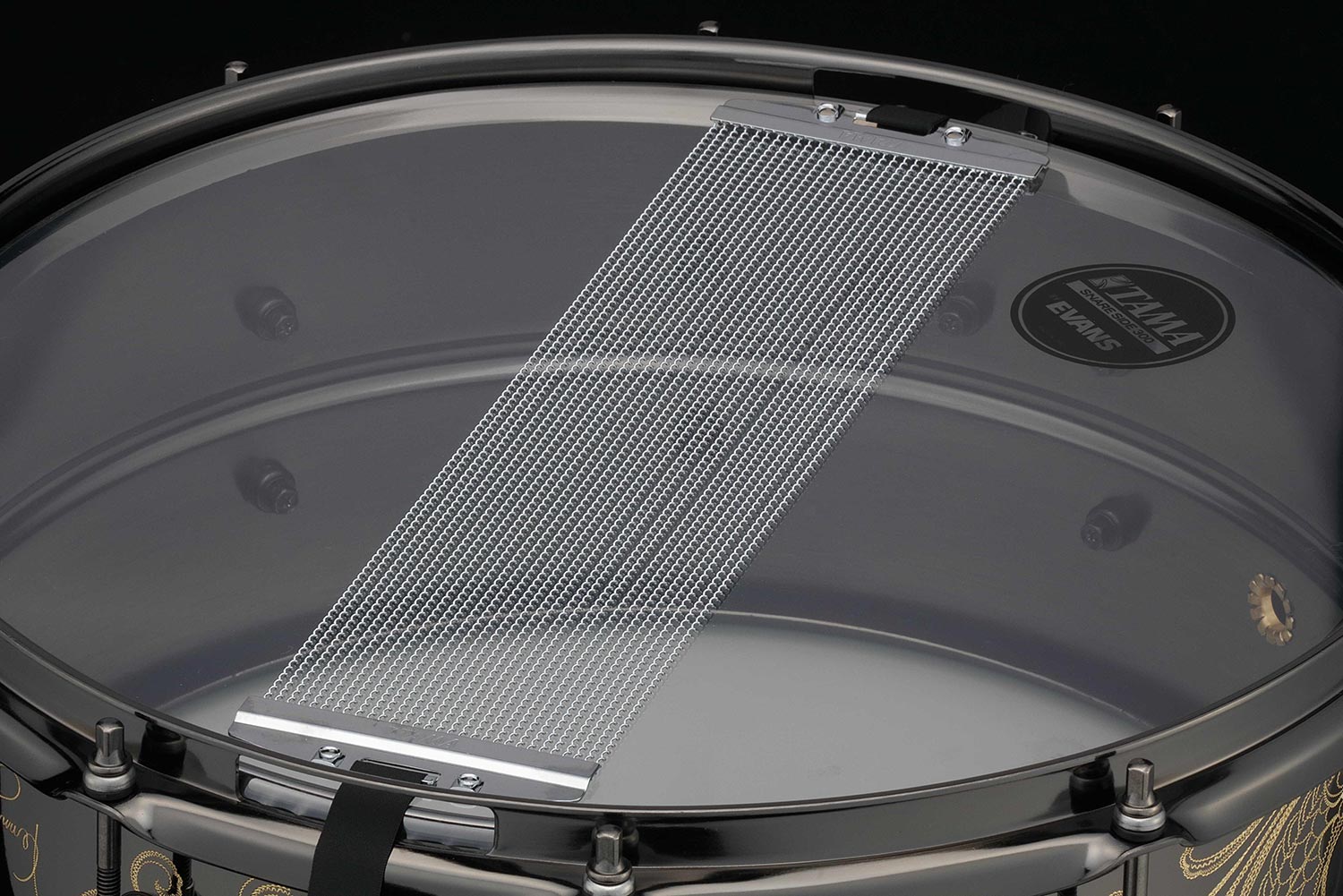 30 strands Carbon Steel Snare Wire
Furthering Kenny's exact specifications, this drum is fitted with 30-strand Carbon Steel snare wires, increasing the drum's response and sensitivity while emphasizing its natural tone.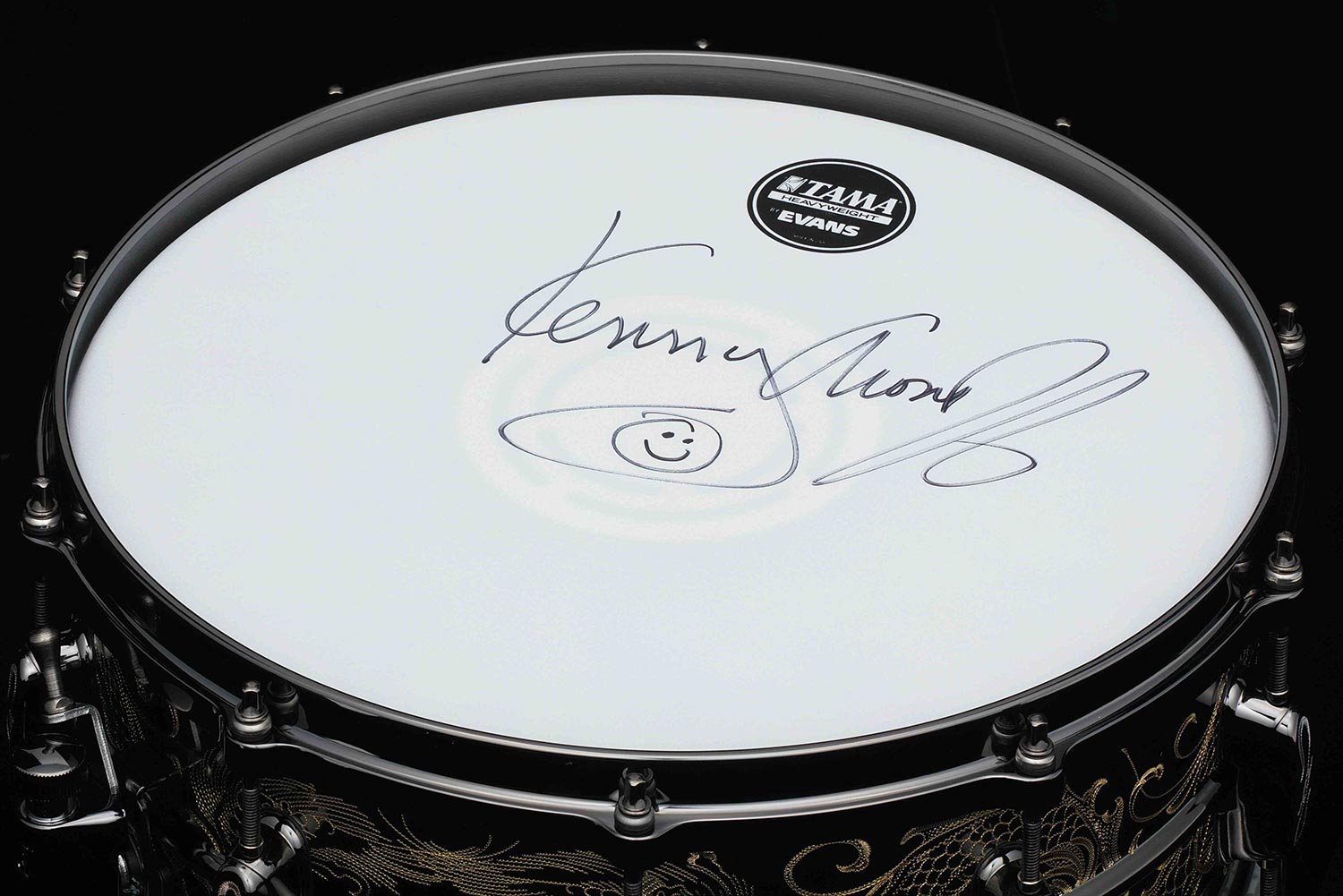 Hand-Signed EVANS® Heavyweight Coated Drumhead
For an added personal touch, this drum includes an EVANS® Heavyweight Coated drumhead hand-signed by Kenny. Designed for heavy hitters, this drumhead features two plies of 10mil film with a 3mil Reverse Dot for durability and focus. Producing a dry sound with short sustain, this drumhead perfectly complements the drum's unique tone.
At the very beginning of this 40th Anniversary project, Kenny had only one requirement – the snare drum absolutely must be hand engraved by master engraver, John Aldridge. This simple idea brings history to the present, as TAMA's history with John Aldridge goes back over 20 years with a similarly unique and special project. In 2002, John hand engraved the 14x6.5" Kenny Aronoff Limited Edition Trackmaster Snare Drum which featured an intricate dragon design by Rock n' Roll painter John Douglas.
This limited snare drum was a huge success. Kenny loved the engraving design so much, he took a drum to famed tattoo artist, Corey Miller, to replicate the design as a tattoo. Now, two decades later, Kenny's tattoo served as inspiration for this extremely special 40th Anniversary Limited Edition snare drum. In keeping with history, John and Kenny asked Corey if he would make a new design based on the tattoo; a request Corey happily accepted. The result is a work of art – a beautifully intricate hand drawn dragon, finished with Kenny's personal "coat of arms", perfectly encompassing Kenny's personal life philosophy: always be Uncommon and your true Authentic Self.
In 1982, the current Hoshino Gakki president, Kimihide Hoshino, was working as a salesman in the United States. At that time, Kenny was just starting his career with John Cougar Mellencamp, and (unsurprisingly) was being approached by other drum manufacturers about possible endorsements. But as fate would have it, a retail store owner and good friend of the Hoshino Gakki Company, Neil Graham, introduced Kenny and Kimihide. Kenny remembers this time fondly, "Right at the time my career was taking off, I met Mr. Hoshino and we instantly became friends. At the same time, Neil Graham had been telling me about TAMA's amazing drum sound and how their hardware was durable and extremely reliable. He said they were a family-run company with a strong business sense, and very collaborative with their artists. Considering that, my new relationship with Kimihide, and of course, watching guys like Billy Cobham and Stewart Copeland play TAMA, I knew these drums and company were for me."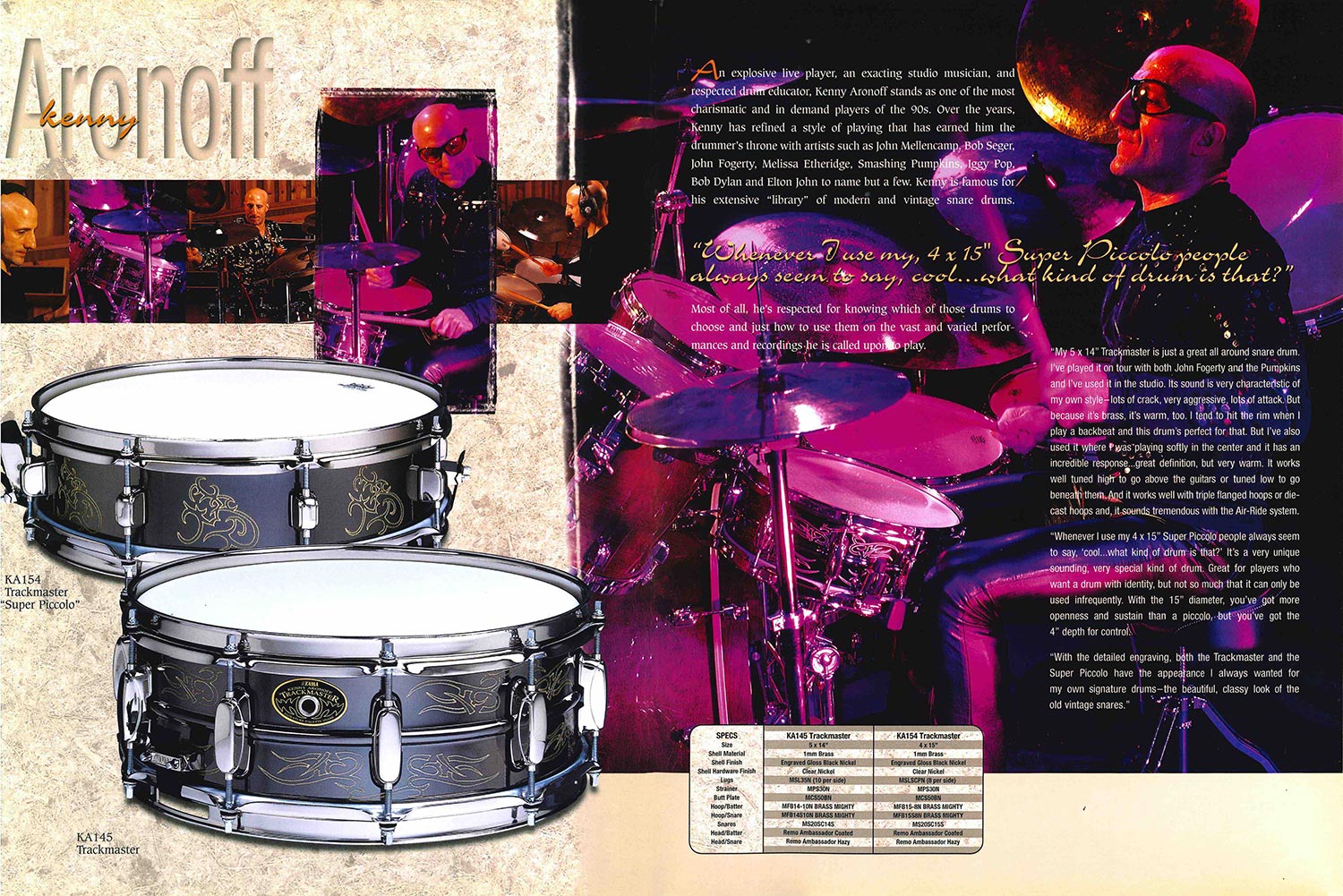 In the late 1990's, TAMA's relationship with Kenny took on new meaning. Looking to produce a series of snare drums designed specifically to achieve an artist's own unique sound, TAMA's development team chose Kenny to be the first of three original signature snare drum artists. At the same time, Kenny's busy tour schedule happened to find him in Japan. Eager to begin, TAMA took this opportunity to meet with Kenny in person and offer him this special project. Surprised and excited, Kenny happily accepted. And finally, in 1999, Kenny's first signature snare drums were released: the original 14"x5" Trackmaster, and 15"x4" Super Piccolo.