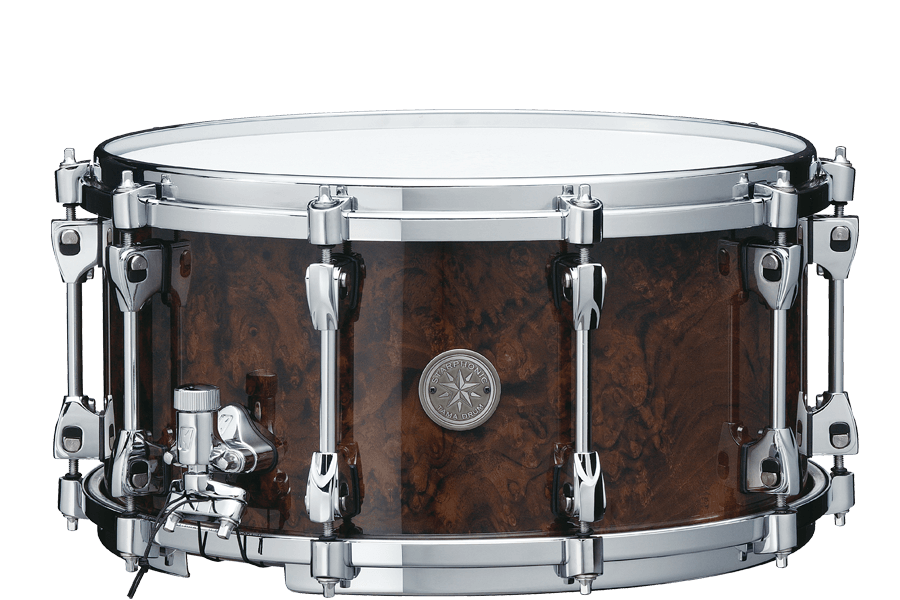 This STARPHONIC snare drum features a thin 6mm/7ply Walnut shell characterized by its uniquely warm sound and mid-low tone. The Grooved Hoop provides controlled overtones and a slightly mellow attack. The Super Sensitive Hi-Carbon Snare Wires enhance the luxurious and fat sound of the Walnut shell. Finished with a Walnut Burl outer ply in a dark natural finish, this snare looks just as gorgeous as it sounds.
Features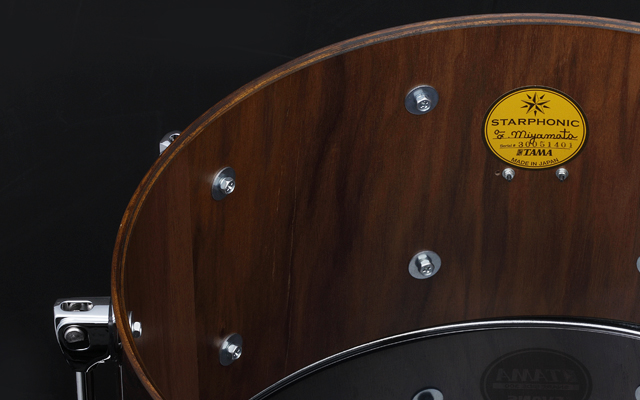 6mm, 6ply American Black Walnut Shell + 1 outer ply Black Walnut Burl
This snare drum features a thin 6mm/7ply Walnut shell characterized by its uniquely warm sound and mid-low tone.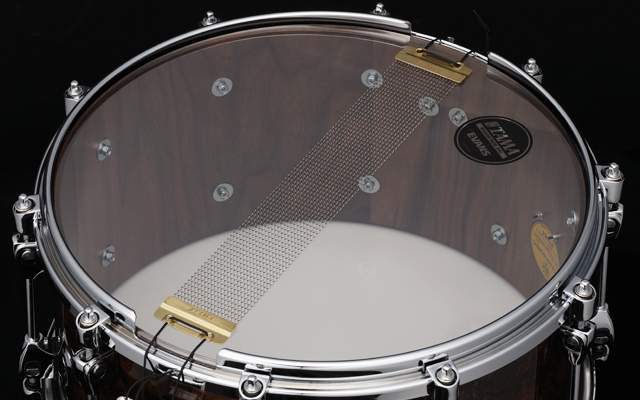 Super Sensitive Hi-Carbon Snare Wire
In order to provide a more crisp and sensitve sound, we redesigned our snappy snare, using new materials and customizing the shape of the plate and the wire coil's winding pattern. As a result of these modifications, the new "Super Sensitive Hi-Carbon Snappy Snare" fits more closely to the snare side head, demonstrating greater sensitivity and brighter, crisper sound.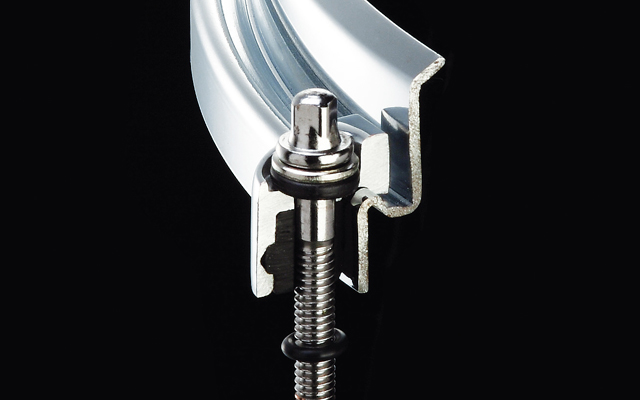 Non-Loosening Rubber Gasket (US.PAT.NO. 7825318)
STARPHONIC's claw hooks have a rubber block inside to prevent the tension bolts from loosening during playing. Once the tension bolt is tightened, the claw hook is pressed towards the hoop. This also presses the rubber block inside the claw hook and adds pressure to the tension rod inside.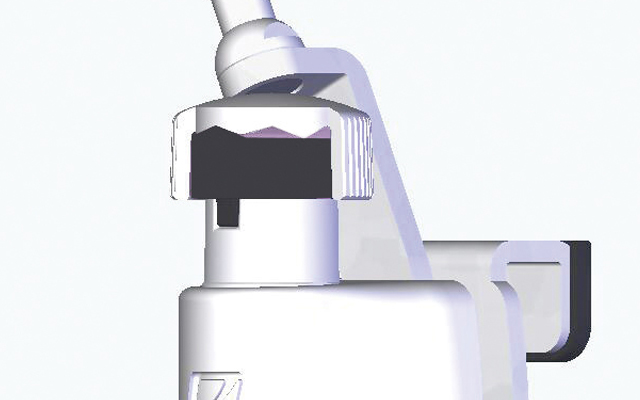 Ratchet Style Snappy Tension Adjuster
To prevent the snappy snares from loosening, TAMA incorporated a ratchet system on the strainer's tension adjustment mechanism. Much like an adjustment tool with fine gears, it achieves high-pressure retension, even with extreme settings. Single click adjustments offer a vertical pull of 0.083mm of wire motion, which allows you to achieve ltra sensitive micro-adjustments.
Freedom Lug & Claw Hook (US.PAT.NO.7825318)
By looseing the tension rods, you can tilt the claw hooks backwards and away from the Grooved Hoop. This quick release system offers simple, speedy replacement of drum heads without having to take all of the tension rods out of the lugs.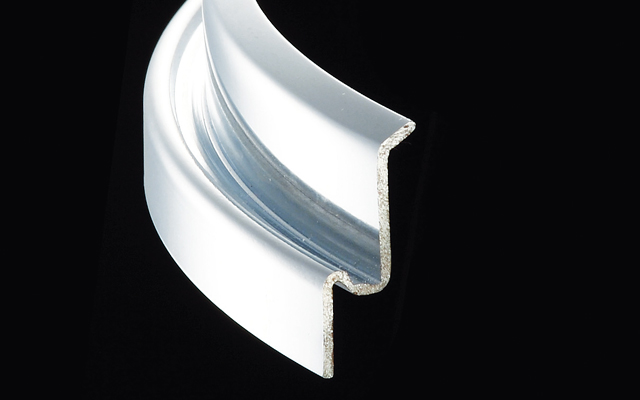 Grooved Hoop (US.PAT.NO.7825318)
The first factor we focused on to achive a new snare drum sound was the effect of hoop. So, we carefully studied the evolution of the hoop over time.

In doing so, we came up with an idea that combines vintage design and modern technology. That idea is the essence of our totally new "Grooved Hoop."
FINISHES
EXOTIC FINISHES (LACQUER)
GWB

Gloss Black Walnut Burl
LINE UP
- EXOTIC FINISHES (LACQUER)
- PREMIUM LACQUER FINISHES
- DURACOVER WRAP FINISHES
YOUR RECENTLY VIEWED PRODUCTS