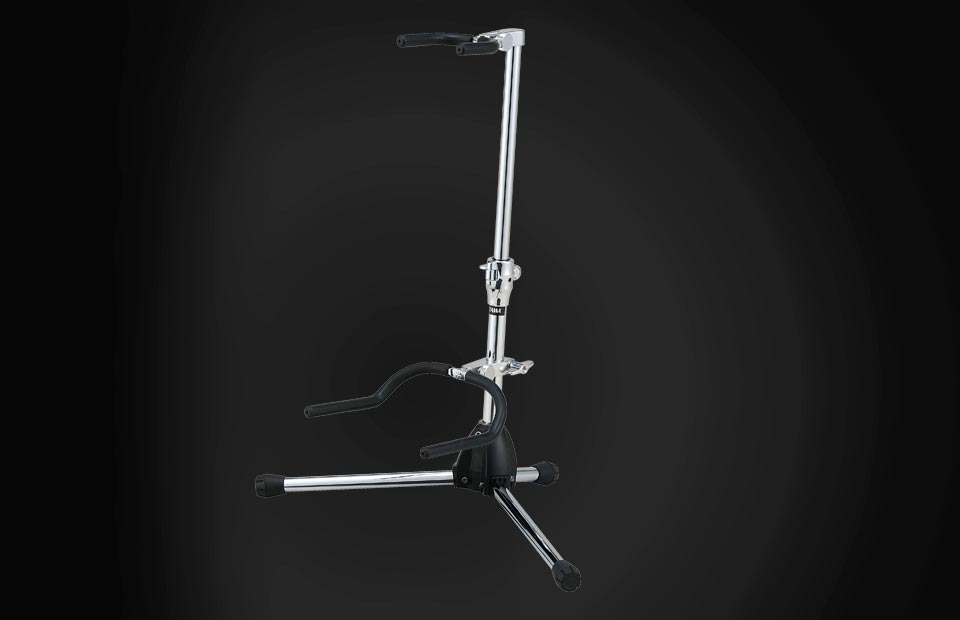 SCROLL
Guitar Stand 839
This Guitar stand uses the same tripod base found on TAMA Microphone stands which boasts a high reputation amongst professionals due to its outstanding stability and durability. High stability is achieved regardless of the floor condition. In addition to the high stability achieved by the base of the stand, the height and angle of the holder can be adjusted freely. This makes it possible to accommodate a myriad of stringed instruments of various shapes and sizes. This stand can be folded into a compact package making it extremely portable.
SCROLL
SPECIFICATIONS
Learn More
FEATURES
Learn More
Height Adjustment Range

Learn More

Size for storage

Learn More

Product Dimensions

Learn More

Die-Cast Tripod Base

Learn More

The tripod base uses a nylon bushing that allows for smooth adjustments and ensures a secure hold. This stand is extremely easy to set up and tear down during any musical application. The legs are secured by iron bolts and nuts ensuring high durability.

Close

Glide-Tite Grip Joint (US.PAT.NO.9631656)

Learn More

The height adjustments section of the stand uses a die-cast joint to improve durability and withstands heavy wear and tear. Due to the fixed pipe, it does not move when the guitar is placed on the stand. When adjusting the height on the stand the nylon bushing allows the pipe to easily be adjusted smoothly.

Close

Adjustable Neck and Body Holder

Learn More

The height and angle of the holder can easily be adjusted. The overall construction of this stand enables you to place an instrument onto it without any worry of it being unstable.

Close
VIDEOS
Learn More
A video summarizing the various features is available.
YOUR RECENTLY VIEWED PRODUCTS