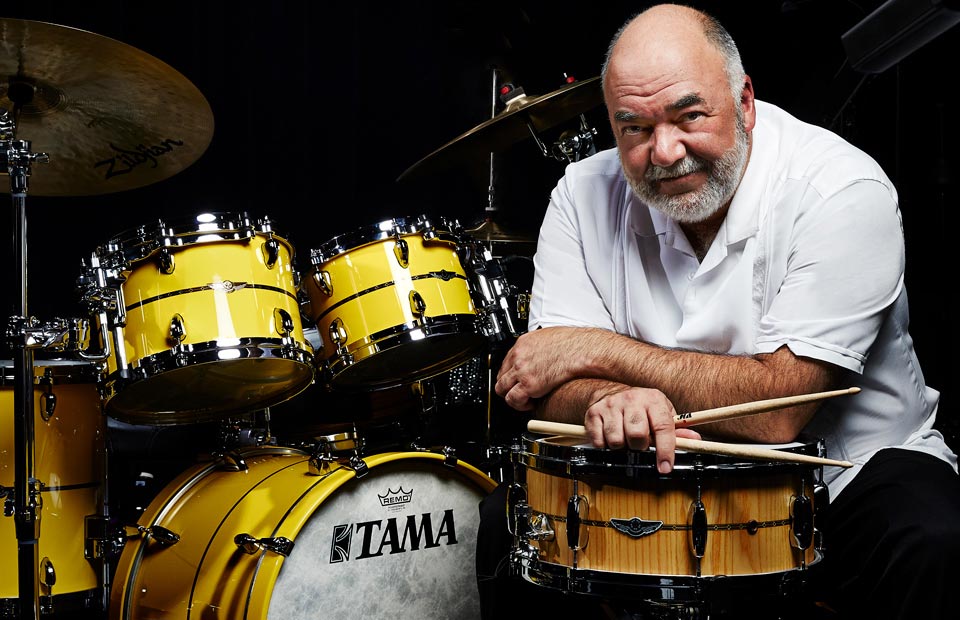 SCROLL
PE1445
The drum set is a jazz instrument — but you can play any style of music on it. The "Jazz Bass" was, in fact, played on more hit pop tunes than you can count; the "Jazz Snare" may enjoy equally legendary status one day. Designed to be affordable without any compromise in its playability or sonic footprint, the Peter Erskine Jazz Snare by TAMA is a unique 14"x4.5" drum, made of Spruce and Maple plies with a reinforcing ring on the batter side only. The drum whispers and shouts, with brilliant focus and snap. The sensitivity provided by the shallow depth is balanced by the 8-lug design which allows for a low fundamental body of sound. The drum follows your every command and will take you to new places, too. Every drummer should have a "Jazz Snare" as part of their collection; the beautiful wood/gloss finish assures compatibility with any drum set.
SCROLL
SPECIFICATIONS
Learn More
Product specification information is listed below.
- EXOTIC FINISHES (LACQUER)
- PREMIUM LACQUER FINISHES
- DURACOVER WRAP FINISHES
FEATURES
Learn More
The following is a detailed introduction to the many unique mechanisms on board.
Inside Sticker

Learn More

On each signature snare drum, a special sticker bearing the artist's signature is placed on the inside of every shell. The artist signs each sticker by hand, one by one, adding a personal touch that makes each signature snare drum especially unique.

Close

REMO® Coated Ambassador (Batter Side) / REMO® Ambassador Clear (Snare Side)

Learn More

Super Sensitive Hi-Carbon Snare Wire (MS20RL14C)

Learn More

In order to provide a more crisp and sensitive sound, we redesigned our Snare Wires using new materials, customizing the shape of the plate, and changing the wire coils' winding pattern. As a result, the new "Super Sensitive Hi-Carbon Snare Wire" fits more closely to the snare side head, providing greater sensitivity and brighter, crisper sound.

Close

"Linear-Drive" Strainer (US. PAT.NO.8017846)

Learn More

The "Linear-Drive" strainer is designed for greater control of the lever adjustment arm and more precise control of the strainer's deployment motion. The strainer movement works in a true linear motion. Even if the strainer is engaged rapidly, you will not hear the typical "slap" of the snare wires hitting the bottom drumhead.

To prevent the snare wires from loosening, this strainer also has a ratchet system on its tension adjustment mechanism. Single click adjustments offer a vertical pull of 0.083mm in wire motion, which allows for ultra-sensitive micro adjustments.

Close

2.3mm Sound Arc Hoop (8 Hole)

Learn More

This inward curved 2.3mm steel hoop enhances the natural tone of the snare drum, and offers sensitivity, precise tuning, and control.

Close

Shell Material

Learn More

6mm, 4ply Spruce + 2 inner ply Maple
w/ Sound Focus Ring only for batter side (Same configuration : 6mm, 4ply Spruce + 2 inner ply Maple)

Close
VIDEOS
Learn More
A video summarizing the various features is available.
YOUR RECENTLY VIEWED PRODUCTS