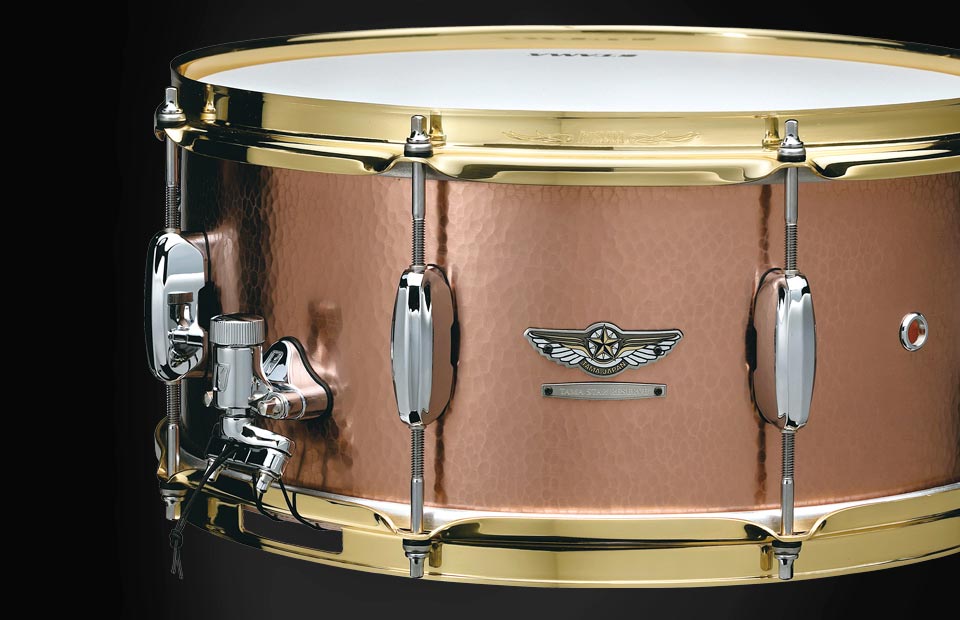 SCROLL
STAR Reserve Hand Hammered Copper 14"x6.5"
The STAR Drums series' first metal snare features a hand hammered copper shell. In addition to a mid-low end with tons of volume, the hand hammered shell creates a deeply harmonic overtone. A slightly smaller diameter hammer is used on the edge of the shell compared with the hammer that is used on the center, causing the shell to take a barrel shape.
This unique shape provides a fat sound and rich resonance. To complement the shell, we used our original 2.3mm brass "Customized Flanged Hoop". The edge of this hoop is slightly shaved down compared to our standard flanged hoop, producing a sharper and brighter attack. The combination of these two different characteristics – warm, rich resonance with sharp, bright attack - offers a totally new and original sound, unlike any other metal snares.
SCROLL
SPECIFICATIONS
Learn More
Product specification information is listed below.
- EXOTIC FINISHES (LACQUER)
- PREMIUM LACQUER FINISHES
- DURACOVER WRAP FINISHES
VIDEOS
Learn More
A video summarizing the various features is available.
YOUR RECENTLY VIEWED PRODUCTS