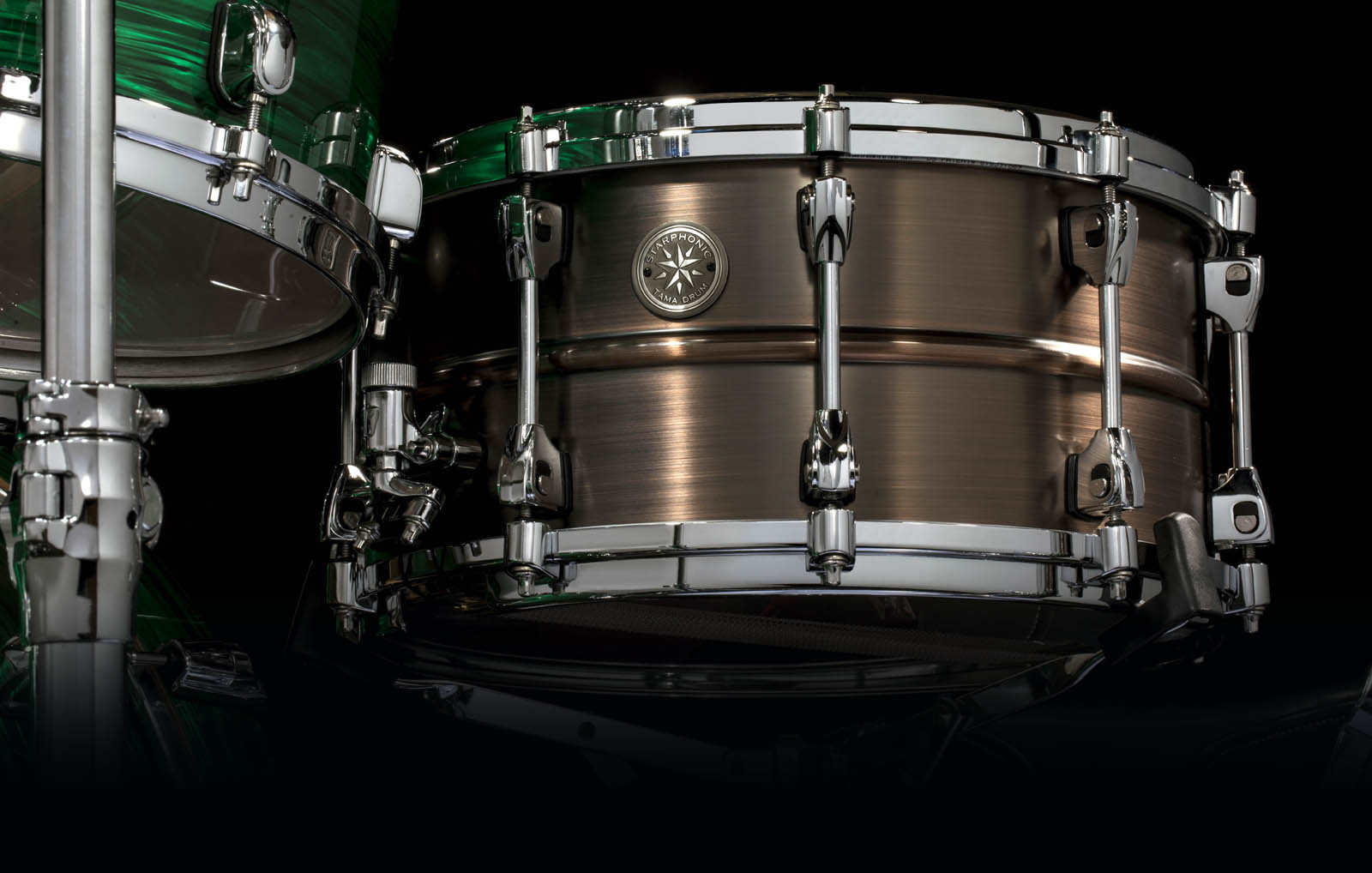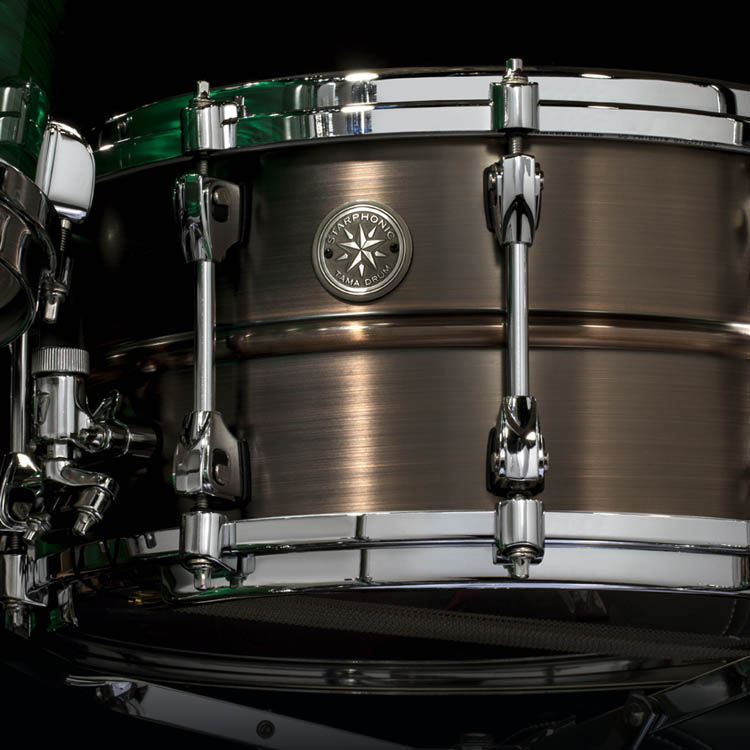 Features
Bearing Edge
The shape of the edge is one of the most important factors which affect drum sound. Because the drumheads provide the important source of vibration, the shape of the contact point of the head and shell determines and defines the sound. This is why TAMA has worked so extensively on achieving the most functional shape for the drum head and edge.
Picture shows a sectional view of the drum's bearing edge. As shown in Part A, the angle of the top edge is set 2.5mm inside from the outer surface of the shell. The edge is cut to a round collar so as to follow the natural shape of the drumhead (B). This design, which creates a better fit between the drumhead and bearing edge, maximizes the resonance of drum.This bearing edge shape is part of our TAMA tradition and is crucial in providing TAMA's unique drum sound.
"Linear-Drive" Strainer (US.PAT.NO. 8017846)
The "Linear-Drive" strainer is designed for greater control of the lever adjustment arm and more precise control of the strainer's deployment motion. The strainer movement works in a true linear motion. Even if the strainer is engaged rapidly, you will not hear the typical "slap" of the snare wires hitting the bottom drumhead.

To prevent the snare wires from loosening, this strainer also has a ratchet system on its tension adjustment mechanism. Single click adjustments offer a vertical pull of 0.083mm in wire motion, which allows for ultra-sensitive micro adjustments.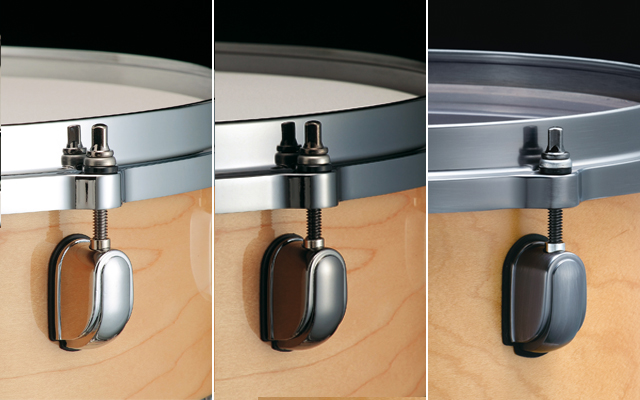 Shell Hardware Choice
When selecting professional drums, you want an appearance as distinctive as the sound. Starclassic Bubinga / Maple now offers the choice of shell hardware finished in Chrome, the Black Nickel, Smoked Black Nickel Plated.

To order Starclassic Maple drums with Black Nickel Plated hardware simply add the letters "B".

To order Starclassic Maple drums with Smoked Black Nickel Plated hardware simply add the letters "U".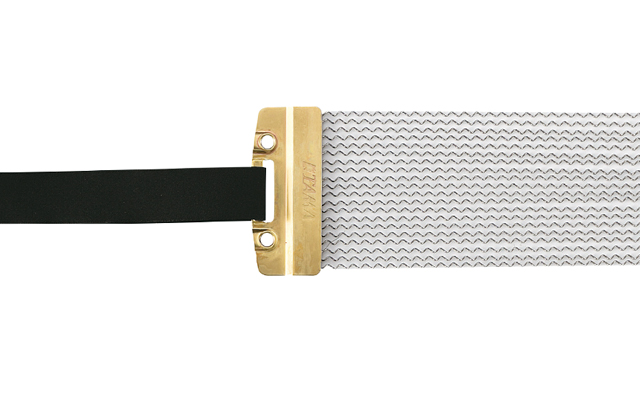 Super Sensitive Hi-Carbon Snare Wire
In order to provide a crisper and more sensitive sound, we redesigned our snappy snare using new materials and customizing the shape of the plate and the wire coil's winding pattern. As a result of these modifications, the new Super Sensitive Hi-Carbon Snappy Snare fits closer to the snare side head, providing greater sensitivity and a brighter, crisper sound.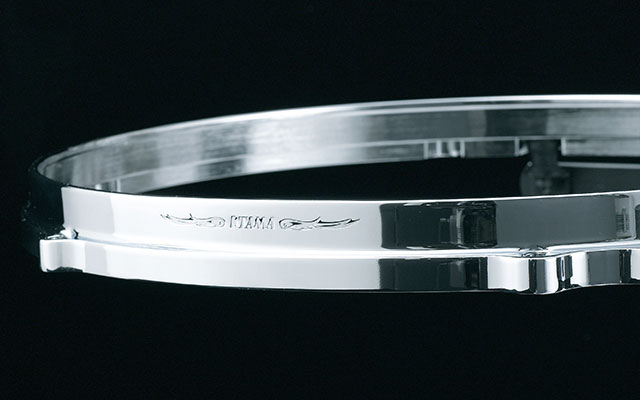 Die-Cast Hoops
Made of die-cast zinc, TAMA's die-cast hoops deliver an incredibly sharp, solid rim shot that cannot be found in any other hoop.
FINISHES
EXOTIC FINISHES (LACQUER)
LACQUER FINISHES

LACQUER FINISHES

LACQUER FINISHES

LACQUER FINISHES

LACQUER FINISHES

LACQUER FINISHES

LACQUER FINISHES

LACQUER FINISHES

LACQUER FINISHES

LACQUER FINISHES

LACQUER FINISHES

LACQUER FINISHES

LACQUER FINISHES

LACQUER FINISHES

LACQUER FINISHES

LACQUER FINISHES

LACQUER FINISHES

LACQUER FINISHES

EXOTIC FINISHES (LACQUER)

EXOTIC FINISHES (LACQUER)

EXOTIC FINISHES (LACQUER)

EXOTIC FINISHES (LACQUER)

EXOTIC FINISHES (LACQUER)

EXOTIC FINISHES (LACQUER)

EXOTIC FINISHES (LACQUER)

DURACOVER WRAP FINISHES

DURACOVER WRAP FINISHES

DURACOVER WRAP FINISHES

DURACOVER WRAP FINISHES

DURACOVER WRAP FINISHES

DURACOVER WRAP FINISHES

DURACOVER WRAP FINISHES

DURACOVER WRAP FINISHES

DURACOVER WRAP FINISHES

DURACOVER WRAP FINISHES
FLM

Flat Steel Blue Metallic

CHS

Champagne Sparkle

DPP

Deeper Purple

GCS

Galaxy Chameleon Sparkle

BCS

Black Clouds & Silver Linings

LJB

Light Jade Burst

SAM

Satin Aztec Gold Metallic

DMB

Dark Mocha Burst

FDG

Flat Deep Green Metallic

FBK

Flat Black

FBM

Flat Burgandy Metallic

MEB

Molten Electric Blue Burst

MBB

Molten Satin Brown Burst

VAM

Vintage Antique Maple

SSR

Silver Snow Racing Stripe

PWH

Piano White

PBK

Piano Black

ATM

Antique Maple

VTBV

Tobacco Sunburst Movingui

LRWB

Ruby Pacific Walnut Burst

LEWB

Emerald Pacific Walnut Burst

LNWB

Natural Pacific Walnut Burst

VGLM

Gloss Natural Movingui

VOLM

Ocean Blue Fade Movingui

VVLM

Violet Fade Movingui

BWO

Blue and White Oyster

RWO

Red and White Oyster

CCL

Charcoal Swirl

VBL

Vintage Blue Sparkle

ROY

Red Oyster

JDL

Jade Silk

CCO

Charcoal Onyx

SGS

Surf Green Silk

SWP

Snow White Pearl

VMP

Vintage Marine Pearl
LINE UP
- EXOTIC FINISHES (LACQUER)
- PREMIUM LACQUER FINISHES
- DURACOVER WRAP FINISHES
YOUR RECENTLY VIEWED PRODUCTS