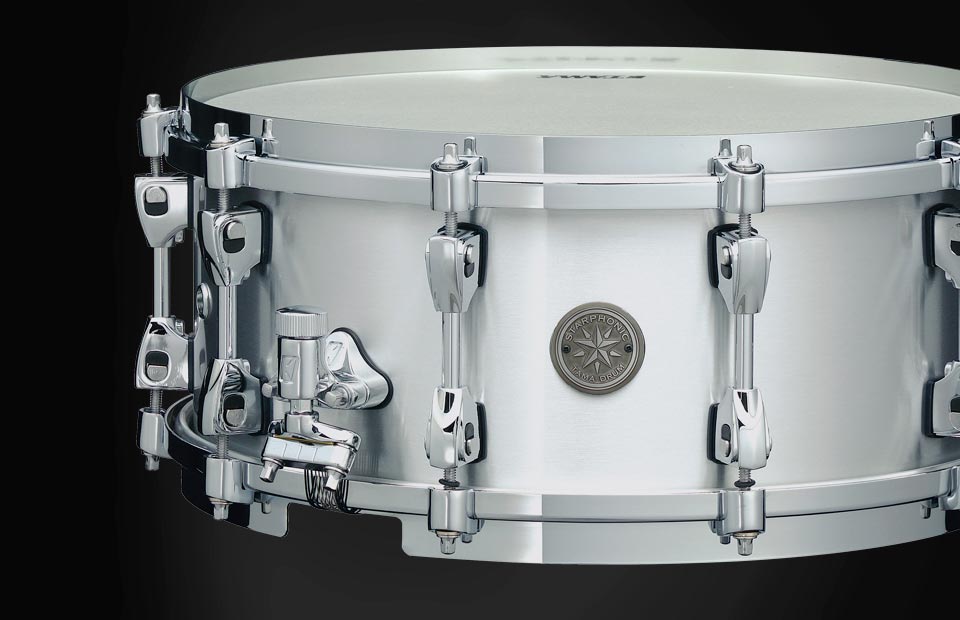 SCROLL
STARPHONIC Aluminum Concert Snare 14"x6"
The 3mm aluminum shells combine the warmth and full-bodied tone aluminum is known for with the thunderous punch typically attributed to steel shells. The innovative Grooved Straight Hoops contribute to a focused yet unrestrained resonance. The unique combination of state-of-the-art features of the STARPHONIC Concert Aluminum snares expands adjustability and practical tuning range of the drums, giving players full control over articulation, dynamics and response.
TAMA STARPHONIC Aluminum snare drum was built with universality in mind. It offers a wealth of features and unparalleled adjustability that will make any performer stand out at an audition, shine during a solo feature or blend seamlessly with an ensemble.
SCROLL
SPECIFICATIONS
Learn More
Notes
•Shell: 3mm Aluminum
•3 Air Vents
•Size: 14"x6"
•Lug: Freedom Lug
•Hoop: Grooved Straight Hoop (10 tension)
•Strainer: MLS50AC w/ Fine Adjuster
•Butt: MLS50BC
•Snare Wire: Hybrid Snare Wire (MS12NN14L)
Nickel Wound Round Guitar String (6 strands in the center)
Black Nylon Coated Stainless Steel Wire (3 strands each outside)
FEATURES
Learn More
Drum Heads

Learn More

REMO® Renaissance Diplomat Head for Batter Side / REMO® Diplomat Hazy Snare Side Head

Close

3mm Aluminum Shell

Learn More

3 Air Vents

Learn More

The unique vent pattern allows for clearer, fuller, and more "open" tone, precise snare response, and unmatched sensitivity. This unique vent pattern also gives the performer auditory feedback similar to that of what the audience would hear.

Close

Grooved Straight Hoop (US.PAT.NO.7825318)

Learn More

Combines the tuning stability of a multi-flange hoop with the openness of a single-flange hoop. It also allows the player to have full access to the head's playing surface.

Close

Freedom Lug and Claw Hook (US.PAT.NO.7825318)

Learn More

By looseing the tension rods, you can tilt the claw hooks backwards and away from the Grooved Hoop. This quick release system offers simple, speedy replacement of drum heads without having to take all of the tension rods out of the lugs.

Close

Fine Adjuster (US.PAT.NO.10789916)

Learn More

The Fine Adjuster on the snare throw allows for fine-tuning the center six Nickel wound guitar strings for customized tone and response.

Close

Hybrid Snare Wire (MS12NN14L)

Learn More

Six strands of Nickel guitar strings are flanked on each side by three strands of nylon coated, Stainless Steel wire. The wire seats within the throw off and butt plate, eliminating the need for snare chord and guessing the correct tension.

Close

"Linear-Drive" Strainer (US.PAT.NO. 8017846)

Learn More

STARPHONIC's strainer uses a "Linear-Drive" system, which we designed to provide greater control of the lever adjustment arm and more precise control of the strainer's deployment motion. Even if you move the arm rapidly, you will not hear the typical "slap" of the wires hitting the bottom head. The strainer movement is designed to work in a true "linear motion", similar to the motion found on "round sproket" drum pedals. Most strainers are not designed like this and tend to speed up right before the snare wires connect with the snare side head. Also, by tilting the angle of the butt plate 30 degrees, this design holds the snare wire cords or tape more firmly and reduces unnecessary pressure on the strainer and shell.

Close
YOUR RECENTLY VIEWED PRODUCTS