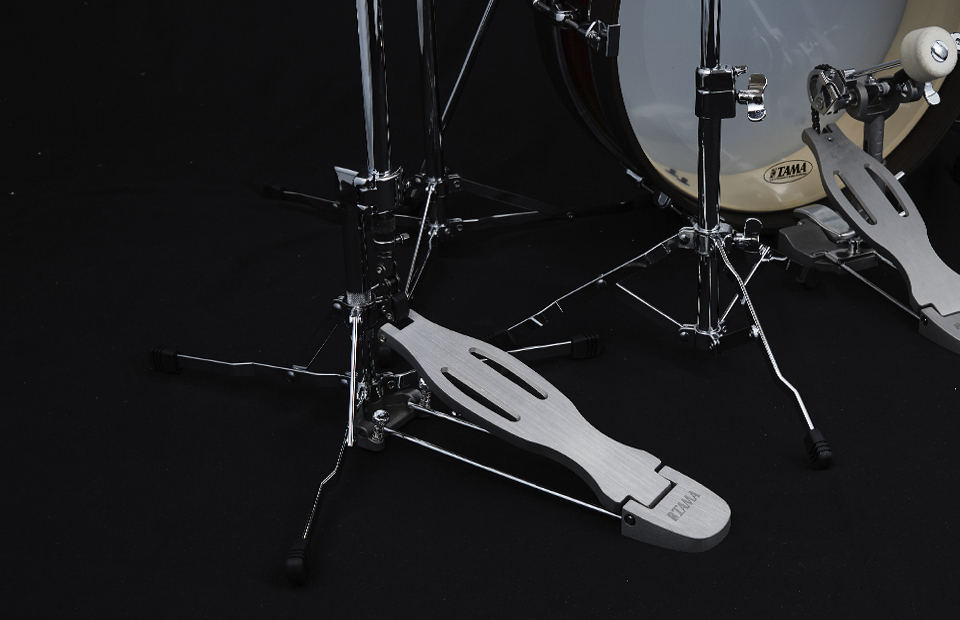 SCROLL
The Classic H-Hat Stand
Inspired by the vintage hi-hat stands of the 1960s, we are proud to announce our new extremely lightweight and compact The Classic Hi-Hat Stand. This hi-hat stand is not merely a rehash of old designs, but a beautiful blend of vintage style with the strength, adjustability, and reliability of modern construction. In addition, the hi-hat stand's compact folding design and light weight make it very easy to transport.
SCROLL
LINEUP
Model No.
HH55F
Model Name
The Classic H-Hat Stand
Details
•Weight: 2.3kg (5.1lbs)
•Heigh Adjustment Rnage:650mm-950mm (26 3/8" - 36 5/8")
•Storage size: 500mm (19 11/16") (upper section) / 600mm (23 5/8") (lower section)
SPECIFICATIONS
Learn More
Product specification information is listed below.
FEATURES
Learn More
The following is a detailed introduction to the many unique mechanisms on board.
Single Braced Flat Base Tripod Legs

Learn More

This hi-hat stand features a flat base with single braced legs making for a sleek, lightweight design that's very easy to transport.

Close

Smooth Surface Footboard

Learn More

The newly designed classic style footboard takes advantage of both a lightweight construction and smooth surface, making it a great choice for any drumming style.

Close

Individual Adjustment of Spring Tension & Footboard Angle

Learn More

The spring tension and footboard angle can be adjusted individually using a drum key.

-Spring Tension
While loosening the square head bolt A, move the footboard up and down to adjust the spring tension.

-Footboard Angle Adjustment
While loosening the square head bolt B, slide the center pipe up and down to adjust the footboard angle.

Close

Knurling on Base Pipe (US.PAT.NO.10235979)

Learn More

This knurling surface prevents the T-bolt from slipping off, which is the typical problem for flat base hi-hat stand.
(Pat.pending)

Close

Die-Cast Pipe Joint / Memory Lock

Learn More

The new Die-Cast Joint design provides a secure attachment by, tightly gripping the tube with a metal plate that is held in place by the T-bolt. In addition, a memory lock prevents the pipe from any unwanted rotation or sliding.

Close

Easy Store Radius Rod

Learn More

Hook the wire rods to the protrusions on the bottom of the footboard for quick and easy storage and transport.

Close
VIDEOS
Learn More
A video summarizing the various features is available.
YOUR RECENTLY VIEWED PRODUCTS