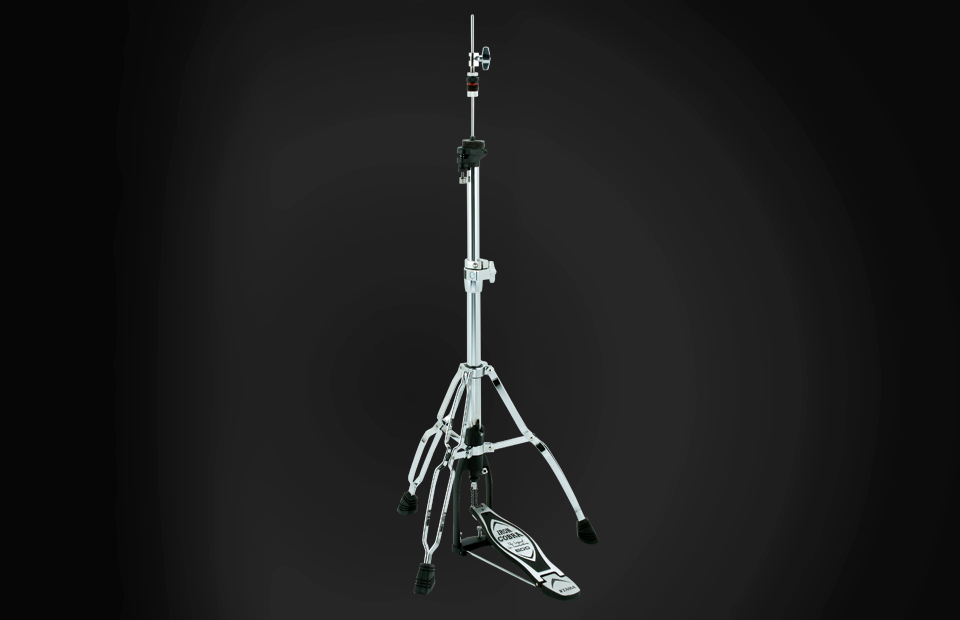 SCROLL
Iron Cobra 600 Hi-Hat Stand
The Iron Cobra 600 series hi-hat stand (HH605) offers functionality and stability reminiscent of the highly regarded Iron Cobra 900 series. The HH605 is equipped with the new Spring Seat and Swing Lock Clutch which enhance the sound of hi-hat cymbals. In addition, its 28.6mm diameter base pipe and double braced legs provide reliability and sturdiness.
SCROLL
LINEUP
Model No.
HH605
Model Name
Iron Cobra 600 Hi-Hat Stand
Details
•Spring Seat
•Swing Lock Clutch
•6-way Tension Adjustment
•Swivel Foot
•Direct Pull Action
•Spare-The-Rods Tension Rod Protector
•Non-Loosening Tension Rod
•Footboard Angle Adjustment
•Weight: 4.3kg (9.7lbs)
•Height Adjustment Range: 710mm-930mm (28" - 36 5/8")
SPECIFICATIONS
Learn More
Product specification information is listed below.
FEATURES
Learn More
The following is a detailed introduction to the many unique mechanisms on board.
Swing Lock Clutch (US.PAT.NO.8604325)

Learn More

This allows the top hi-hat cymbal to float more freely, maximizing the natural resonance of the cymbals.

Close

Swivel Foot

Learn More

Since the foot pedal can be rotated around the tripod base, the Swivel Foot feature greatly expands floor space and set-up flexibility.

Close

Footboard Angle Adjustment (US.PAT.NO.6747200)

Learn More

Allows much easier footboard angle adjustments.

Close

Spare-The-Rods Tension Rod Protector

Learn More

No more tension rods getting bent out of shape during transport! With Spare-The-Rod, you can save your tension rod the rigors of the road by packing it in the specially designed upper section pipe. It's a small, but very significant TAMA hardware innovation.

1.Insert the tension rod into the upper tube.

2.Hold the tension rod in place with the hi-hat clutch.

3.Done. The upper tube covers the tension rod.

Close
YOUR RECENTLY VIEWED PRODUCTS