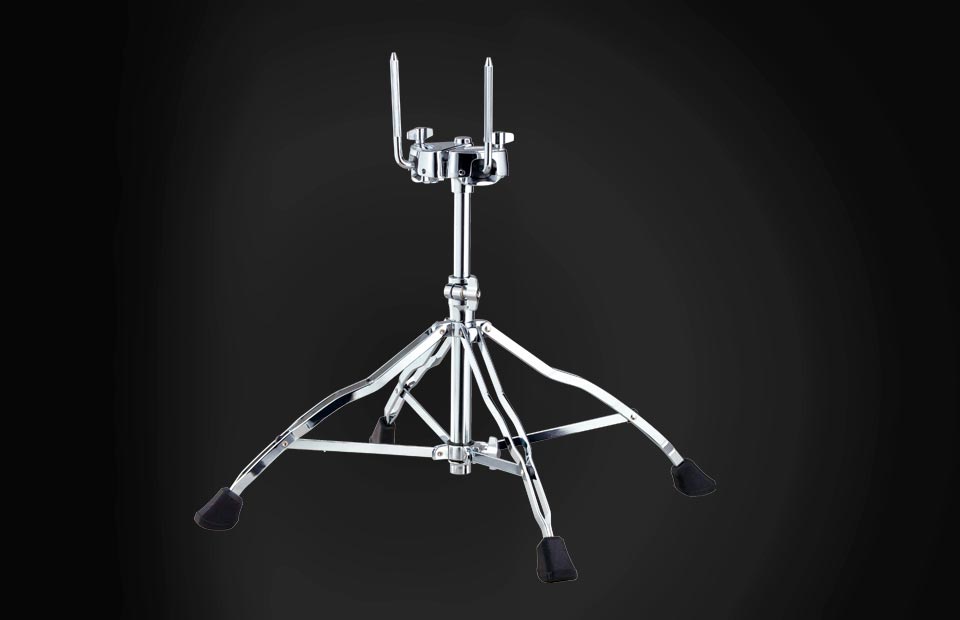 SCROLL
Roadpro Double Tom Stand HTW849W
This double tom stand is specifically designed for low setting. Our innovative four-legged design provides incredible stability even for larger tom settings.
SCROLL
LINEUP
Model No.
HTW849W
Model Name
Roadpro Double Tom Stand
Details
•28.6mm Diameter Base Section Tubing
•Omni-Ball Tom Angle Adjustment
•Gride-Tite Grip Joint
•Double Braced Legs
•Weight: 5.1kg (11.3lbs)
SPECIFICATIONS
Learn More
Product specification information is listed below.
FEATURES
Learn More
The following is a detailed introduction to the many unique mechanisms on board.
Omni-Ball Tom Angle Adjustment

Learn More

With its rock solid stability, TAMA's Omni-ball system has been acclaimed by pro drummers for well over twenty years. You can achieve almost any angle by loosening one T-nut.

Close

Individual Tom Height Adjustment

Learn More

With the HTW839W & HTW849W, one individual tom holder is inserted in another pipe. This way, you can adjust the height and angle of each tom individually.

Close

Innovative Four Legs

Learn More

Specially designed for low settings. Our innovative four-legged design provides incredible stability even with larger toms.

Close

Nylon Washers

Learn More

By inserting nylon washers into the leg stand joints we have improved durability and made the leg action much smoother!

Close

Glide-Tite Grip Joint (US.PAT.NO.9631656)

Learn More

Our new Glide-Tite Grip Joint allows for a more secure attachment by using a metal-to-metal contact point. This provides an extremely solid anchor and complete isolation for a tom or cymbal. Because the stand does not move with the instrument, the natural resonance of that instrument is maximized.

Close
YOUR RECENTLY VIEWED PRODUCTS