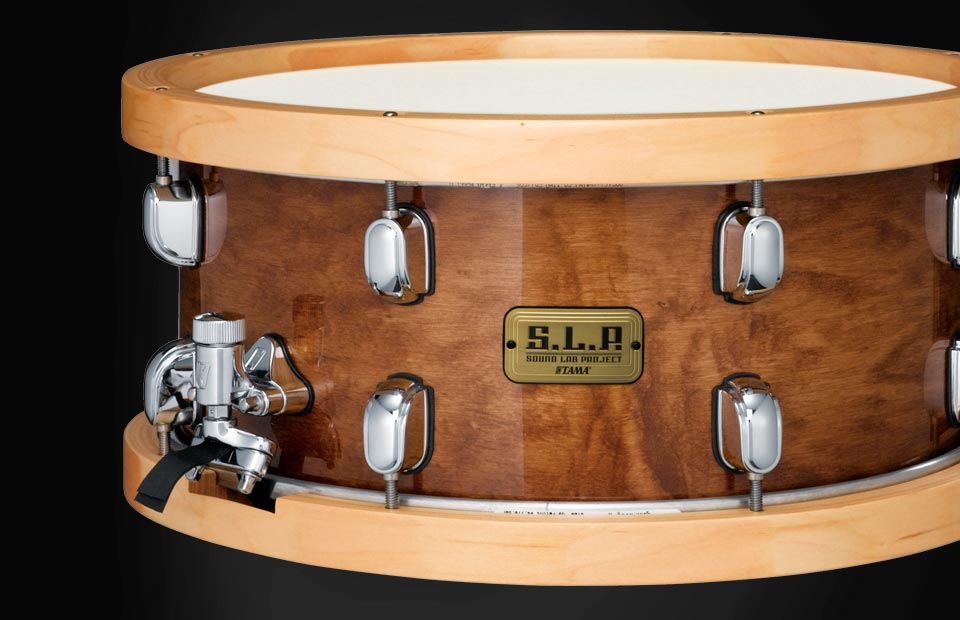 SCROLL
S.L.P. Studio Maple 14"x6.5"
Built to suit the needs of the player looking for a snare with incredibly warm, resonant tone, and crisp clear attack, the 6.5" deep Studio Maple snare features newly designed 100% maple wood hoops, coated with urethane for higher durability.
SCROLL
FINISHES
Learn More
EXOTIC FINISHES (LACQUER)
SPECIFICATIONS
Learn More
Product specification information is listed below.
- EXOTIC FINISHES (LACQUER)
- PREMIUM LACQUER FINISHES
- DURACOVER WRAP FINISHES
FEATURES
Learn More
The following is a detailed introduction to the many unique mechanisms on board.
6ply 5mm All Maple Shell w/ Sound Focus Ring

Learn More

100% Maple Wood Hoop

Learn More

The 22 mm thick hoops provides warm sound and powerful attack especially rim shot.

Close

Starclassic Lugs

Learn More

20 Strand Starclassic Carbon Steel Snare Wire

Learn More

Starclassic snares offer several unique, highly useful features. When adding more tension to the wires, the strands press closer to the snare head. We've also redesigned the angle of the end plates and added thinner straps to obtain optimum response.

Close
VIDEOS
Learn More
A video summarizing the various features is available.
YOUR RECENTLY VIEWED PRODUCTS