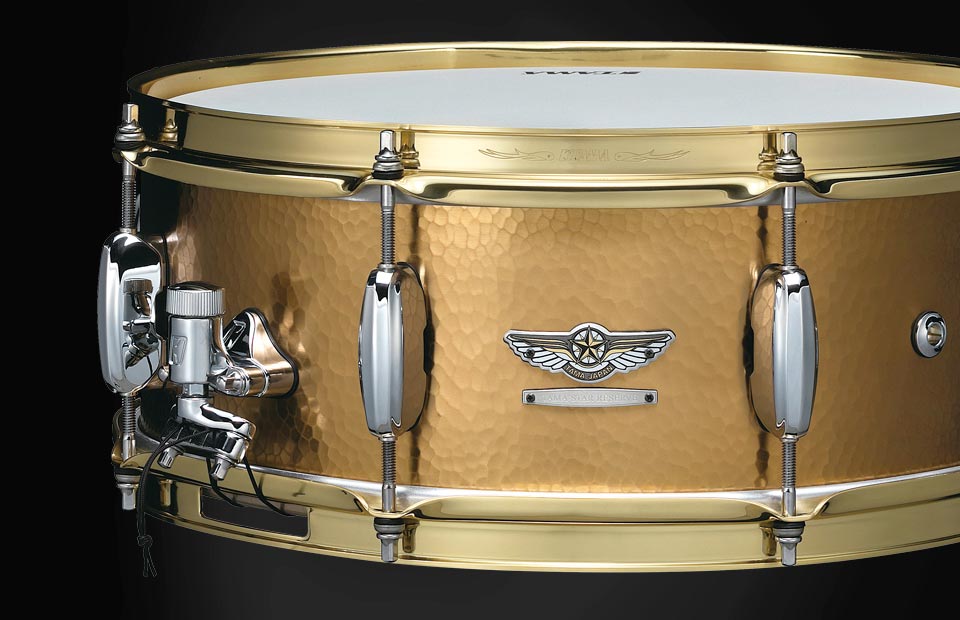 SCROLL
STAR Reserve Hand Hammered Brass 14"x5.5"
In keeping with the craftsmanship and quality of previous STAR Reserve snare drums, TAMA introduces another drum in the series - The STAR Reserve 14"x5.5" Hand Hammered Brass Snare Drum. This drum features a 1.5mm thick shell, 2.3mm brass Customized Flanged Hoops, and a unique hammering pattern. Upon the first hit, this visually stunning and beautiful sounding drum leaves the player with an utterly distinct and lasting impression.

At 5.5" deep, the natural tone of the brass shell is accentuated, and a crisp, high-quality sound is produced due to the unique hammering technique by skilled Japanese metalworkers. Meticulously hand hammered using a larger diameter hammer at the edges of the drum and a smaller diameter hammer at the center, the drum takes on a barrel-like shape. The result is an exquisitely balanced and resonant tone that machine hammering cannot replicate. In addition, the Customized Flanged Hoops feature a slightly shaved down edge, producing a sharp and bright attack. When the remarkable hand hammered shell and Customized Flanged Hoops are combined, a rich and vibrant tone with unmistakably clear attack is realized.
SCROLL
SPECIFICATIONS
Learn More
Product specification information is listed below.
- EXOTIC FINISHES (LACQUER)
- PREMIUM LACQUER FINISHES
- DURACOVER WRAP FINISHES
FEATURES
Learn More
The following is a detailed introduction to the many unique mechanisms on board.
Super Sensitive Hi-Carbon Snare Wire

Learn More

In order to provide a crisper and more sensitive sound, we redesigned our snappy snare using new materials and customizing the shape of the plate and the wire coil's winding pattern. As a result of these modifications, the Super Sensitive Hi-Carbon Snappy Snare fits closer to the snare side head, providing greater sensitivity and a brighter, crisper sound.

Close

Customized Brass Mighty Hoop

Learn More

Customized Brass Mighty Hoop provides a sharper and brighter attack with rich harmonic overtones, made of brass with a slightly shaved down edge.

Close

1.5mm Hand Hammered Brass Shell

Learn More
VIDEOS
Learn More
A video summarizing the various features is available.
YOUR RECENTLY VIEWED PRODUCTS