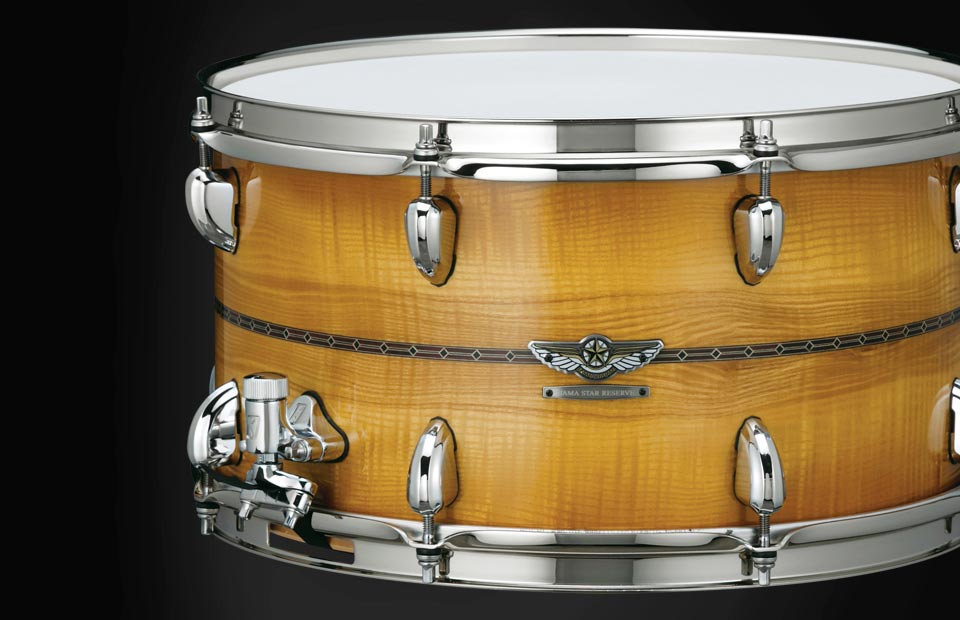 SCROLL
STAR Reserve Maple/Bubinga 15"x8"
For the seasoned drummer, it is an extremely gratifying sensation to discover a special snare drum that brings a newfound creativity to your playing. All of a sudden, your go-to phrasing is out the window and you're heading down a new path, playing patterns you'd typically not even attempt. We feel this is exactly what we've accomplished with our 15" x 8" STAR Reserve snare drum.

Its combination of Bubinga/Maple hybrid shell and Brass Mighty hoops provides a thunderous backbeat, while maintaining a great tonal balance of low and high end frequencies. No matter how you tune this drum, its presence is clearly heard and felt. Some of our artists even tune this drum very low and place it where a first floor tom would traditionally be, in addition to a main snare in standard position. This can lead to many unique phrasing opportunities. In this position, the drum functions as a "low snare" with the snare wires engaged, but with the wires off, it can double as a floor tom.
SCROLL
FINISHES
Learn More
EXOTIC FINISHES (LACQUER)
OCOB

Caramel Olive Ash Burst
SPECIFICATIONS
Learn More
Product specification information is listed below.
- EXOTIC FINISHES (LACQUER)
- PREMIUM LACQUER FINISHES
- DURACOVER WRAP FINISHES
VIDEOS
Learn More
A video summarizing the various features is available.
YOUR RECENTLY VIEWED PRODUCTS