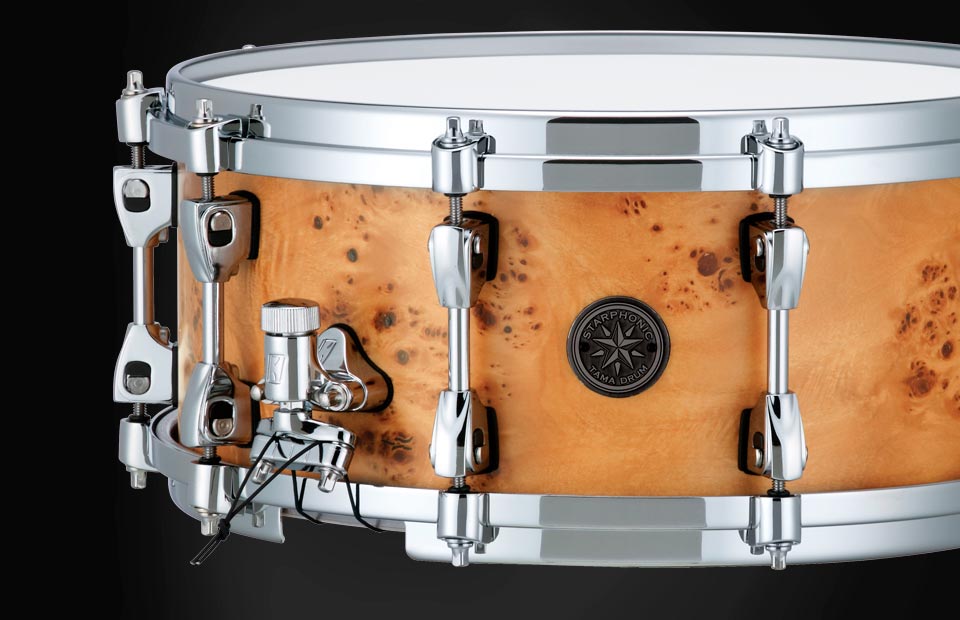 SCROLL
STARPHONIC Maple 14"x6"
The combination of Maple's open, resonant sound with the Grooved Hoop and super sensitive Hi-Carbon Snappy gives this drum a rich, open, crisp sound reminiscent of prized vintage snares.
SCROLL
FINISHES
Learn More
EXOTIC FINISHES (LACQUER)
SPECIFICATIONS
Learn More
Product specification information is listed below.
- EXOTIC FINISHES (LACQUER)
- PREMIUM LACQUER FINISHES
- DURACOVER WRAP FINISHES
FEATURES
Learn More
The following is a detailed introduction to the many unique mechanisms on board.
Bearing Edge

Learn More

The shape of the edge is one of the most important factors which affect drum sound. Because the drumheads provide the important source of vibration, the shape of the contact point of the head and shell determines and defines the sound. This is why TAMA has worked so extensively on achieving the most functional shape for the drum head and edge.
Picture shows a sectional view of the drum's bearing edge. As shown in Part A, the angle of the top edge is set 2.5mm inside from the outer surface of the shell. The edge is cut to a round collar so as to follow the natural shape of the drumhead (B). This design, which creates a better fit between the drumhead and bearing edge, maximizes the resonance of drum.This bearing edge shape is part of our TAMA tradition and is crucial in providing TAMA's unique drum sound.

Close

Super Sensitive Hi-Carbon Snare Wire

Learn More

In order to provide a more crisp and sensitve sound, we redesigned our snappy snare, using new materials and customizing the shape of the plate and the wire coil's winding pattern. As a result of these modifications, the new "Super Sensitive Hi-Carbon Snappy Snare" fits more closely to the snare side head, demonstrating greater sensitivity and brighter, crisper sound.

Close

Non-Loosening Rubber Gasket (US.PAT.NO. 7825318)

Learn More

STARPHONIC's claw hooks have a rubber block inside to prevent the tension bolts from loosening during playing. Once the tension bolt is tightened, the claw hook is pressed towards the hoop. This also presses the rubber block inside the claw hook and adds pressure to the tension rod inside.

Close

Ratchet Style Snappy Tension Adjuster

Learn More

To prevent the snappy snares from loosening, TAMA incorporated a ratchet system on the strainer's tension adjustment mechanism. Much like an adjustment tool with fine gears, it achieves high-pressure retension, even with extreme settings. Single click adjustments offer a vertical pull of 0.083mm of wire motion, which allows you to achieve ltra sensitive micro-adjustments.

Close

Detachable Butt Plate

Learn More

The Detachable Strainer Butt allows you to change your snare side head, but keeps the snare wire tension in its original state. Just loosen the two screws and detach the butt plate with the snappy snares still on. When you reattach tha butt plate, the snare wire tension will be restored to its original position and calibration. The Grooved Snare Side Hoop features an open frame for simpler operation.

Close

"Linear-Drive" Strainer (US.PAT.NO. 8017846)

Learn More

STARPHONIC's strainer uses a "Linear-Drive" system, which we designed to provide greater control of the lever adjustment arm and more precise control of the strainer's deployment motion. Even if you move the arm rapidly, you will not hear the typical "slap" of the wires hitting the bottom head. The strainer movement is designed to work in a true "linear motion", similar to the motion found on "round sproket" drum pedals. Most strainers are not designed like this and tend to speed up right before the snare wires connect with the snare side head. Also, by tilting the angle of the butt plate 30 degrees, this design holds the snare wire cords or tape more firmly and reduces unnecessary pressure on the strainer and shell.

Close

Freedom Lug & Claw Hook (US.PAT.NO.7825318)

Learn More

By looseing the tension rods, you can tilt the claw hooks backwards and away from the Grooved Hoop. This quick release system offers simple, speedy replacement of drum heads without having to take all of the tension rods out of the lugs.

Close

Grooved Hoop (US.PAT.NO.7825318)

Learn More

The first factor we focused on to achive a new snare drum sound was the effect of hoop. So, we carefully studied the evolution of the hoop over time.

In doing so, we came up with an idea that combines vintage design and modern technology. That idea is the essence of our totally new "Grooved Hoop."

Close
YOUR RECENTLY VIEWED PRODUCTS