Fieldstar Marching Snare Drum MS1409 / MS1412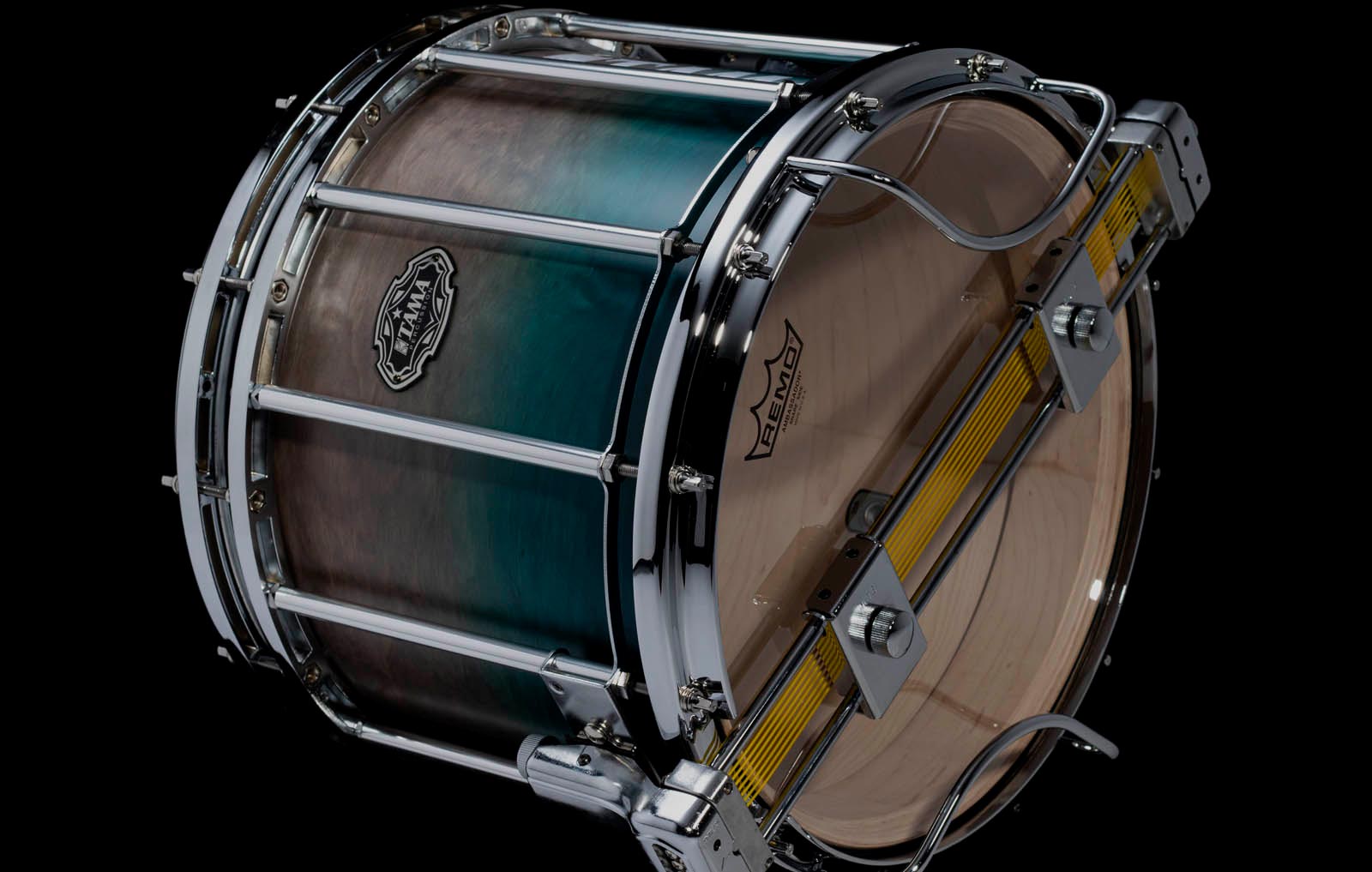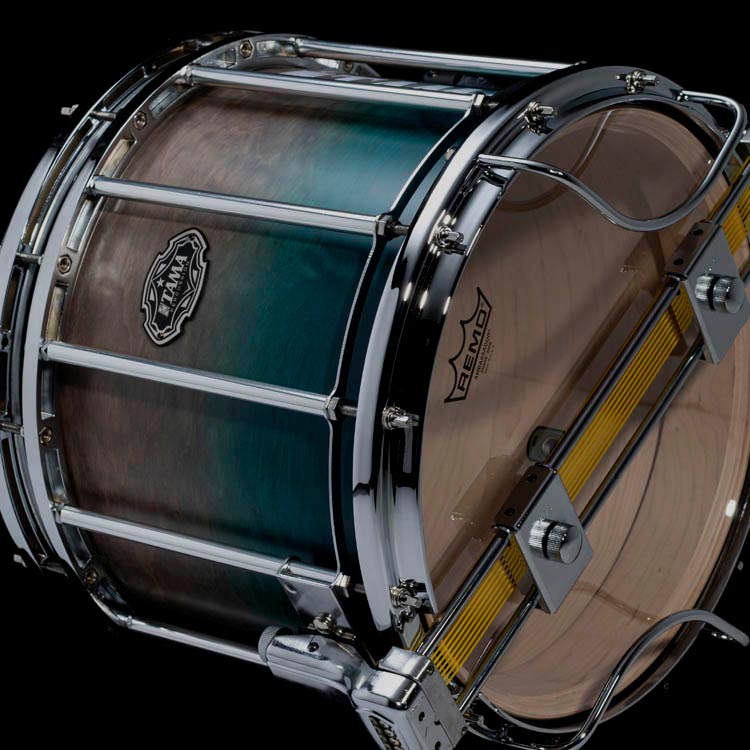 TAMA's uniquely engineered Fieldstar Marching Snare Drums offer features not found on any other comparable product on the market today. Each instrument is expertly crafted to maintain its precise shape under highest of tunings and at a fraction of the weight of conventional snares, thanks to the use of the high-strength magnesium alloy edge ring, low-profile strainer and aluminum snare guards. Each drum's maple shell will deliver and maintain superior tonal quality, resonance and responsiveness under the most intense performance conditions and temperature changes. Beyond the shell, the Fieldstar Marching Snares feature "Buzz Killer Mutes" and a "Detachable Gut Frame" system, allowing the player maximum control over the drum's sound through simple, player-friendly adjustments.
Features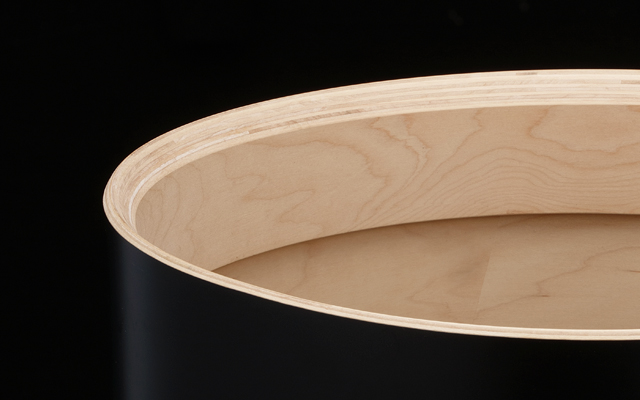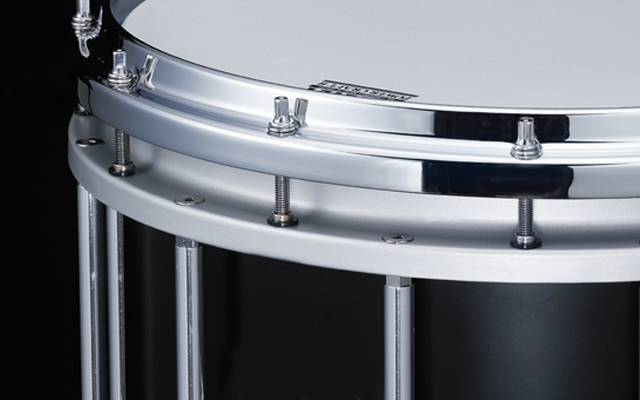 Light Weight Magnesium Edge Ring
The newly redesigned high-strength magnesium alloy edge ring of the TAMA Fieldstar marching snare can withstand the highest of tensions of any modern batter head at a fraction of the weight, which contributes to a dramatic reduction of the weight of a drum.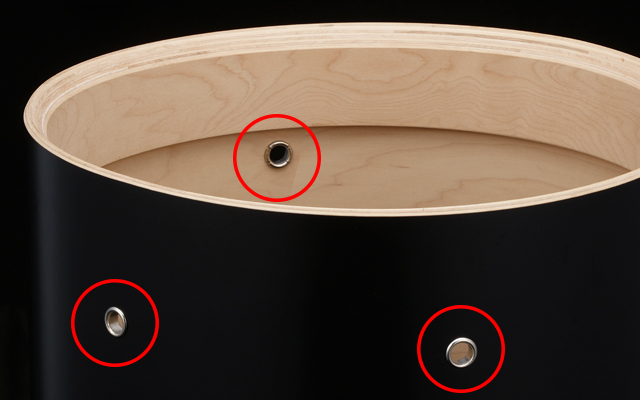 3 Air Vent Holes
3 Air vents ensure response and enhanced projection.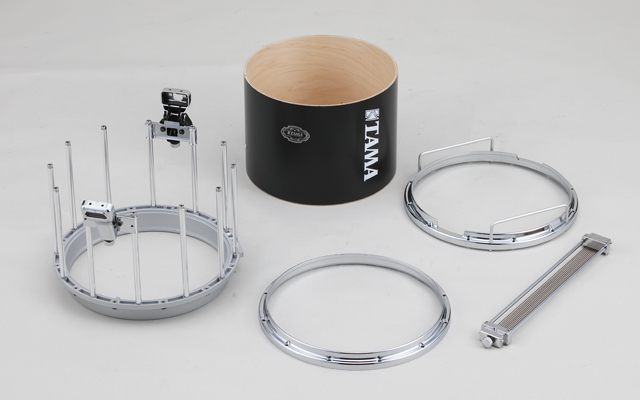 Snare Structure
The free-floating hardware chassis and unique detachable gut frame on TAMA's Fieldstar Marching snare drums remove all stress from the shell allowing for an unrestrained vibration, resonance and projection.
Aluminum Snare Guards
2 lightweight aluminum snare guards protect the bottom hoop from damage when the drum is set on a rough surface.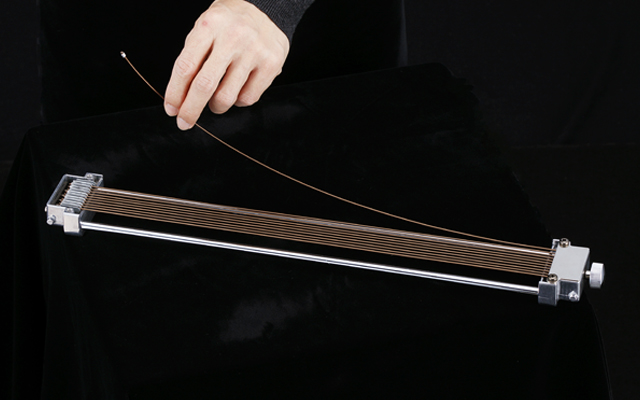 Individual Gut Tension Adjustment
TAMA's original gut frame system features individually adjustable guts that can also be tuned in unison with a single adjustment knob. The guts can be removed or replaced individually to create a tailored, custom sound.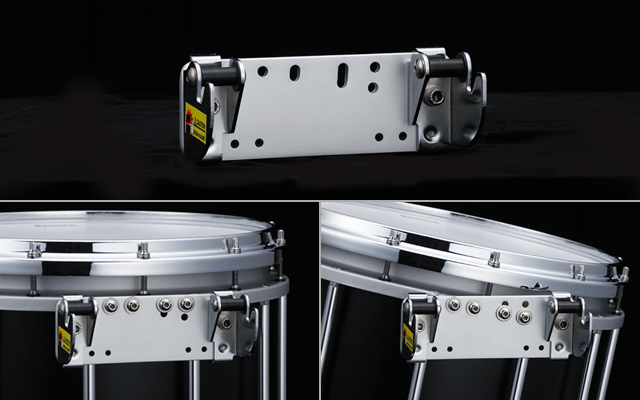 Snare Drum Holder for stands & carriers
The alternative set of holes in the TAMA snare drum holder allow for changing the position of the drum from straight to angled.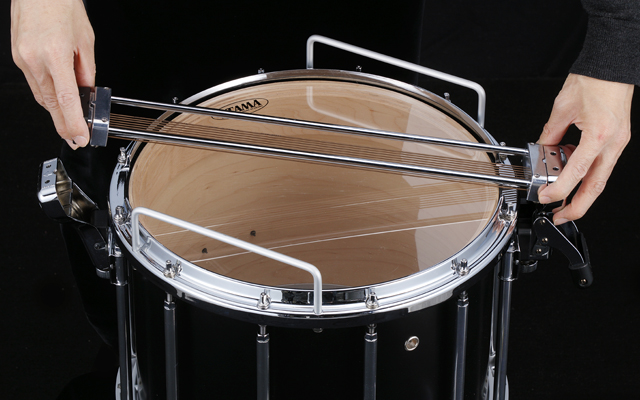 Detachable Gut Frame
The Gut Frame of TAMA Fieldstar Marching Snare Drums can be removed and replaced in seconds. This quick detach design allows for changing the bottom head without disturbing the tension of the guts or position of the mutes. The two arms of the frame fully support the gut tension, removing the unwanted pressure from the shell for an unrestrained resonance.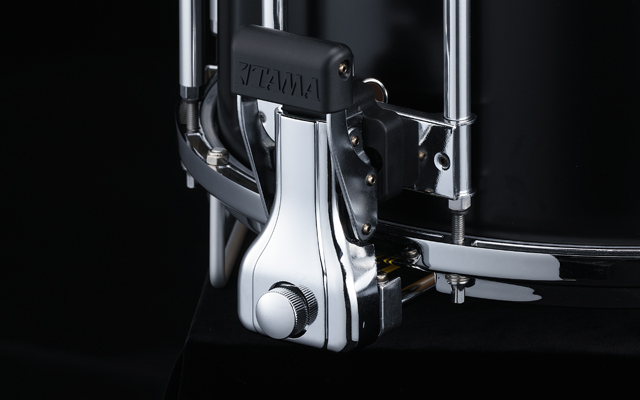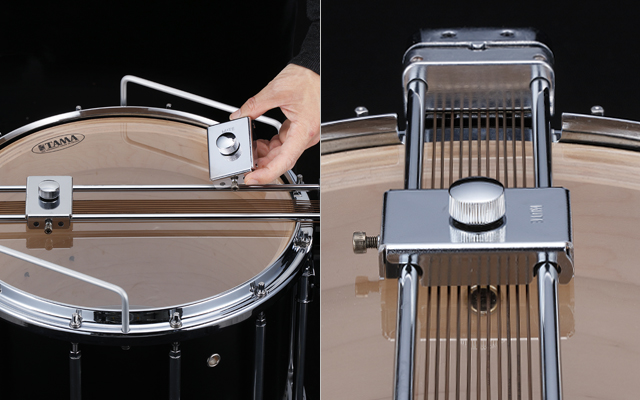 Buzz Killer Mutes (US.PAT.NO.7223910)
TAMA "Buzz Killer Mutes" are used to control sensitivity of the guts. This eliminates the need for tape on the guts and permits correct functioning of the strainer. Mutes can be easily positioned for the desired sound and securely locked down on the gut frame. Subtle differences in muting can be obtained by the adjustment knobs. The mutes can be easily removed or added as needed. "Buzz Killer Mutes" allow for perfect flexibility for indoor or outdoor tuning of the snare sound.
FINISHES
EXOTIC FINISHES (LACQUER)
LACQUER FINISHES

LACQUER FINISHES

LACQUER FINISHES

LACQUER FINISHES

LACQUER FINISHES

LACQUER FINISHES

LACQUER FINISHES

LACQUER FINISHES

LACQUER FINISHES

LACQUER FINISHES

LACQUER FINISHES

LACQUER FINISHES

LACQUER FINISHES

LACQUER FINISHES

LACQUER FINISHES

LACQUER FINISHES

LACQUER FINISHES

UNICOLOR WRAP FINISHES
DPP

Deeper Purple

GCR

Gloss Cherry Red

JDS

Jade Sparkle

MEF

Molten Electric Blue Fade

TBF

Transparent Black Fade

TLF

Tangerine Lacquer Fade

DCF

Dark Cherry Fade

DGF

Deep Green Fade

DSF

Dark Stardust Fade

ISF

Indigo Sparkle Fade

MCF

Molten Caramel Fade

RSF

Red Sparkle Fade

SIF

Smoky Indigo Fade

SPF

Satin Sapphire Fade

VAM

Vintage Antique Maple

VGS

Vintage Gold Sparkle

SBK

Satin Black

SGW

Sugar White
SPEC
Model No.
Fieldstar Marching Snare Drum MS1409 / MS1412

Notes
Drum Sizes : 14" x 9", 14" x 12"
Shell Materials : Maple 6ply 5mm
Number of Lugs : 12 lugs with aluminum tube pipes
Weight :
MS1409 14" x 9" 12.9 lbs (5.9kg)
MS1412 14" x 12" 14.2 lbs (6.5kg)
Strainer : Low Profile Strainer
Snare Structure : Less stress with free floating and detachable gut frame
Tension Rods and Washers : 6 mm strong tension rods with double washers
Batter Side Edge Ring : Lightweight Magnesium Edge Ring for super high-pitch tuning
Bottom Side Edge : With reinforcement ring
Snare Guts : 11 Guts with Detachable Gut Frame
Snare Mutes : 2 Buzz Killer Mutes included
Hoops : Aluminum die-cast hoop
Hardware Finish : Chrome
Shell Finishes : 17 lacquer finishes & 1 wrap finish
Legs : 2 aluminum legs prevent damage to the bottom hoop
YOUR RECENTLY VIEWED PRODUCTS