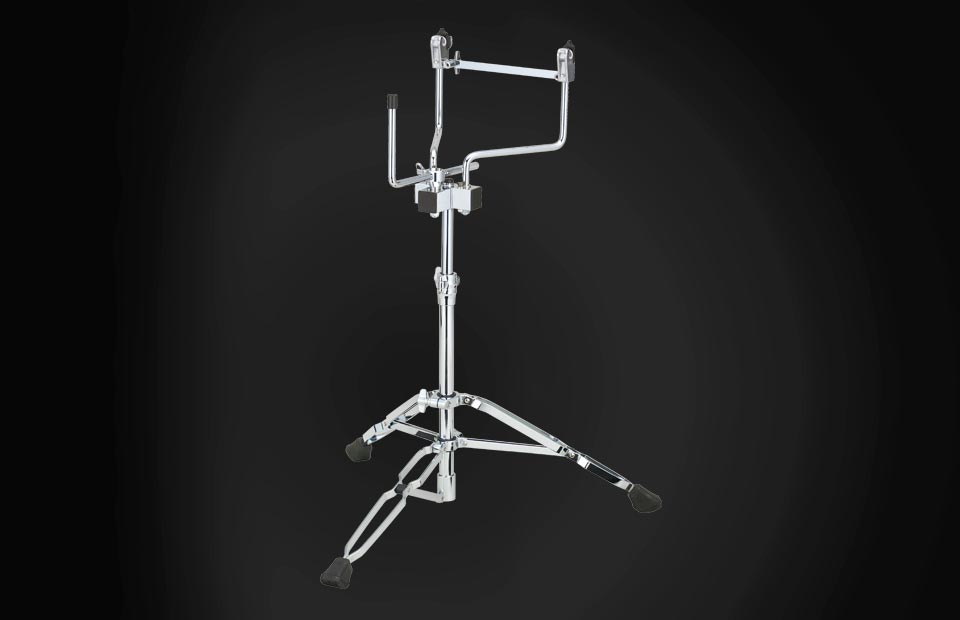 SCROLL
Marching Tenor Stand HMTN79WSZ
TAMA Marching Stands set the standard for adjustability, versatility, and safety. Each stand is easily height adjustable. The snare, tenor, and bass drum stands offer 360 degrees of movement, allowing for exact positioning and complete stability. The center of gravity design actively prevents drums from tipping over, while the legs can adjust to allow for a stable setup on uneven terrain or in stadium seating.

Snare and Tenor stands come standard with a duel locking system that tightly secures each drum to its stand. A multi-lock clamp also enables these stands to securely lock to a stadium seat for unmatched security and stability. With TAMA Marching Stands, there is no risk of stands tipping over during performances.
SCROLL
SPECIFICATIONS
Learn More
Model Name
Safety Lock Marching Stands - Tenor Stand
Notes
Stable Set-up System : Safety Lock Mounts, Center of Gravity Positioning, Adjustable 2 front legs (maximum height is 10"), All Safety Lock Marching Marching Stands include a Multi-locking Stadium Seat Clamp.
Anti-shake System : Anti-shake support bar
Setting support system : Positioning bar.
FEATURES
Learn More
Tenor Anti-Shake Support Bar

Learn More

The Tenor Drum Stand is equipped with an Anti-Shake L-rod Support Bar that prevents wobbling and provides increased stability.

Close

Fold and Positioning Bar (US.PAT.NO.8420919)

Learn More

The upper part of the tenor stand is easy to fold and becomes very compact. The Positioning Bar allows for position memorization and faster set up.

Close

Safety Lock Mount (US. PAT. NO. 8420919)

Learn More

All Safety Lock Marching Stands feature a Safety Lock Mounting System. Drums can be securely locked in place by activating the black locking tabs.

Close

Adjustable 2 Front Legs (US. PAT. NO. 8664500)

Learn More

Two legs of each Safety Lock Marching Stand can be adjusted individually to allow stable drum set up even on uneven surfaces. In stadium locations, the two legs positioned in the higher position will provide increased stability.

Close
YOUR RECENTLY VIEWED PRODUCTS