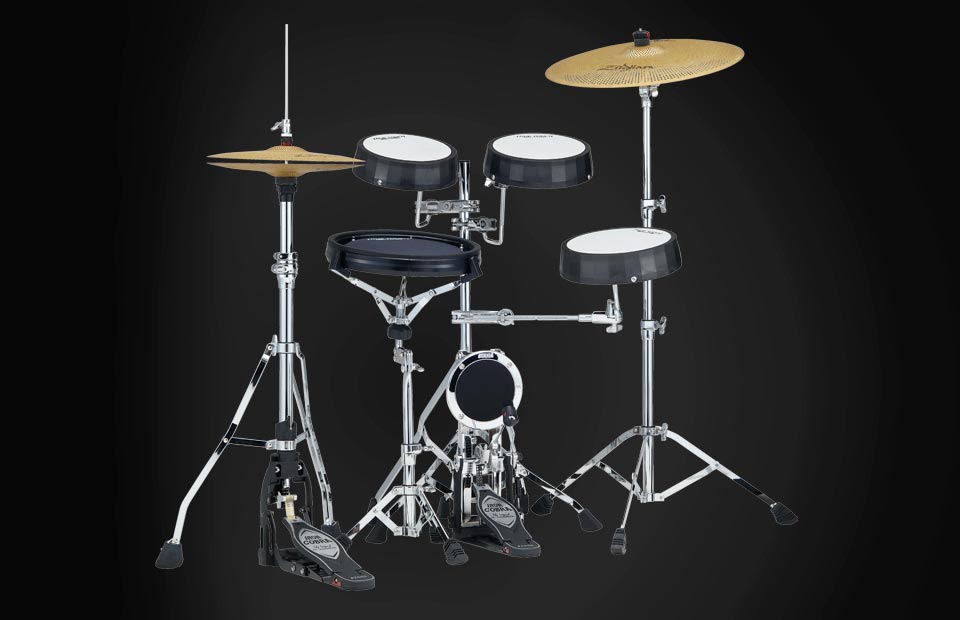 SCROLL
5pc True Touch Training Kit TTK5S
True Touch Training Kit is a revolutionary practice kit that not only offers the low volume required for practicing at home, but also allows drummers to perform critical technique refinement needed to improve their musical expression. The combination of quiet acoustic volume, realistic acoustic touch and sensitive dynamic expression results in a highly satisfying acoustic drum feeling, something that has not been possible with conventional practice kits until now.

The physical acoustic drum set can potentially manifest a drummer's personal musical expression...the direct connection between action/reaction, the seamless process from mental choice to physical execution. Getting the most benefit out of daily practice requires a practice kit that allows drummers to evolve more deeply than just physical independence and rhythmic accuracy. Detailed sonic information is essential, as are the important dynamic nuances expressed so well on full acoustic drums. To be able to pursue and accomplish ultimate musical expression and gratification, drummers need a practice kit with unprecedented expressive power.

To achieve realistic details and dynamic sound range, snare, tom and bass drum pads each have their own unique design and construction that mirrors the feel of actual acoustic drums. Subtle dynamic response reveals acoustic information necessary to make the refined mechanical adjustments critical to advance control, touch, consistency and overall performance. Realistic pad rebound response with super solid feel is a result detailed engineering. In addition to realistically reproducing the rebound and response of acoustic drums, the pads provide detailed sound and feel, along with a high level of stability that helps achieves true, realistic touch. The result is a response that is subtle and dynamic, allowing drummers to control stick response and the sonic nuances that are so important when playing acoustic drums. Drummers seeking to improve subtle technical control will appreciate the way this kit sounds, dynamically responds and interacts with their own playing. No other practice pad kit sounds like or feels like the Tama True Touch Training Kit.
SCROLL
SPECIFICATIONS
Learn More
Description
[Kit Configuration]
-Solid Kick Bass Pad
-AAD Snare Pad
-8" high tom pad w/ mounting clamp
-8.5" low tom pad w/ mounting clamp
-9" floor tom w/ clamp & boom arm & L-rod
-Tom stand
*Hi-hat stand, snare stand, cymbal stands, kick pedal and cymbals are not included.
FEATURES
Learn More
TTK5S Configuration

Learn More

including:
-Solid Kick Bass Pad
-AAD Snare Pad
-8" high tom pad w/ mounting clamp
-8.5" low tom pad w/ mounting clamp
-9" floor tom w/ clamp & boom arm & L-rod
-Tom stand
*Hi-hat stand, snare stand, cymbal stands, kick pdal and cymbals are not included.

Close

AAD Snare Pad (Accuracy Articulation Dynamics)

Learn More

TAMA's True Touch AAD Snare Pad provides the utmost dynamic expression, articulation and accuracy in a practice pad. The pad incorporates a multi-layered design using strong, heavy base materials and multiple layered foam pad materials. A sound source hidden inside the pad produces an immediate response snare buzz sound that is dynamic. This critical "sound feedback" gives the drummer critical information necessary to refine their technique. The two-ply mesh top layer material produces realistic stick response and can be "tuned" from low-mid-high to "dial-in" player feel. The top hoop is raised, similar to an actual drum hoop, to allow drummers to accent rim shots and play side-stick techniques. The overall pad construction and material combination produces a springy-yet-firm stick rebound quality that fully immerses drum stick technique with responsive, detailed rhythmic information.

Close

Acousti-tone Tom & Floor Tom Pads

Learn More

Tom and floor tom pads are designed to produce realistic stick response, while emanating a low-volume acoustic drum sound. Accordingly, the pad surface is a dual-layer of foam rubber with a moderately soft touch response, not overly springy, and a pliable resin shell acts as an acoustic chamber.

Close

Solid Kick Bass Pad

Learn More

TAMA's True Touch Solid Kick Bass Pad provides the utmost dynamic expression, articulation and accuracy in a bass drum practice pad. Designed to achieve accurate bass drum feel with a very low volume acoustic tone, the drum pad is constructed with multiple foam material layers that give a solid strike that has a slight "give." Air holes on the back side of the housing allow air to disperse at beater impact to deliver a solid, accurate strike. The unique tone response produces a dynamic, slightly open note, a tone much different than other bass drum practice pads on the market. Using a wide and extended two-legged stance, the bass pad feels anchored and solid. The pad can accommodate virtually any type/style of single bass drum pedal and most double pedal brands can be used with this pad. Pad height can be quickly adjusted to give position flexibility to match your preferred pedals.

Close

Tom Stand

Learn More

Tom stand features specially designed Space Save Tripod Legs which provide a stable base while saving space.

Close
VIDEOS
Learn More
A video summarizing the various features is available.
YOUR RECENTLY VIEWED PRODUCTS